I have a question for all you decorator/home owners out there…
How many areas in your house are yelling at you to change them? A boring wall that's yelling for some board and batten, a room that needs a fresh coat of paint, a stain on the ceiling from a leak in the bathroom upstairs that's yelling to be covered up, stained carpet that is screaming to be replaced with hardwood floors….
I could go on and on and on and on.
Our guest bathroom downstairs has never yelled at me for anything…
ever
. We decorated it when we first moved in eleven years ago and it's as pretty now as it was then.
So
why
….please tell me
why
do I have projects for that bathroom running around in my head right now?? I have real projects (see above) that I have on my to-do list and I'm searching on Pinterest for ideas on powder rooms.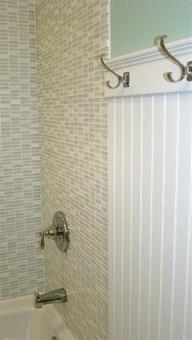 I love the beadboard and the towel hooks.
I love the shelf and the black and white pictures and the fancy wrought iron hooks.
I love all the storage and baskets.
I also love this idea. I love the black which definitely would not go with my bathroom but it's so elegant looking!
I want to trim out the construction grade mirror.
I'm also considering painting the cabinet a pretty green. I haven't told the LOML yet though!! SHHHH!
I like the idea of getting the toothbrushes and toothpaste off of the counter. I can store them in these cool mason jars hooked onto the wall somehow.
Maybe like this…
So now you know what I'm going to be up to this weekend.
What's on your to-do list (or not!!)?
Have a great one!