Last night we had a yummy dish I found on allrecipes.com. I just typed in all the ingredients that I had in the house and it popped out multiple recipes with those ingredients.
This is what we had: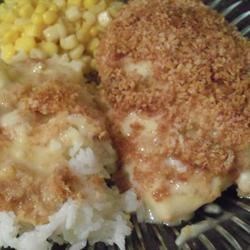 SAVORY CHICKEN BREAST
4 Skinless, boneless chicken breast halves (I doubled for my large family)
ground black pepper to taste
4 slices Swiss cheese (I used shredded sharp cheddar cheese)
1 (10.75 oz) can condensed cream of chicken soup
1/4 cup milk
1 cup dry bread crumbs
3 tablespoons butter, melted
1. Preheat oven to 350 degrees F
2. Place chicken breast in a 9×13 inch baking dish. Season with ground black pepper to taste. Top each
breast with a slice of cheese.
3. Mix together the soup and milk and pour mixture over chicken. Sprinkle bread crumbs on top and drizzle
with melted butter. Bake covered in the oven for 30 minutes. Uncover and bake for another 20 minutes or
until golden brown.
We served the chicken with peas and onions and onion soup baked potatoes. YUMMY!!