At about 5:00p.m. today I decided to think about what to make for dinner. Please tell me some of you lovely people have done this, too. I'm not really as bad a slacker as I think I am, am I??
I looked in my freezer and refrigerator to see what goodies I could throw together. I found a bag of frozen shrimp so I googled "shrimp and pasta". I found this yummy recipe on the Taste of Home website.
CHEDDAR SHRIMP AND PENNE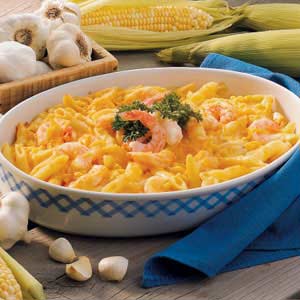 Ingredients
2 cups uncooked penne pasta
2 garlic cloves, minced
2 tablespoons butter
2 tablespoons all-purpose flour
1/2 teaspoon salt
1/4 teaspoon pepper
2 cups 2% milk
1-1/2 cups (6 ounces) shredded cheddar cheese, divided
1 pound cooked medium shrimp, peeled and deveined
1 can (15-1/4 ounces) whole kernel corn, drained
Directions
Cook pasta according to package directions. Meanwhile, in a large saucepan, cook the garlic in butter

over medium heat for one minute. Stir in the flour, salt, and pepper until blended. Gradually add milk.

Bring to a boil; cook and stir for 2 minutes or until thickened. Reduce heat; stir in 1 cup of cheese until

melted. Remove from heat.



Drain pasta; add the pasta, shrimp and corn to cheese sauce. Transfer to a greased 2-qt baking dish.


​

Cover and bake at 350 degrees for 25 minutes. Uncover; sprinkle with remaining cheese.

Bake 10-15 minutes longer or until bubbly.
Yield: 4-6 servings.
The whole family loved this recipe. We served it with some Texas toast. YUMMY!!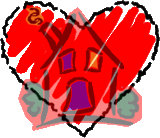 Love y'all,
Linda