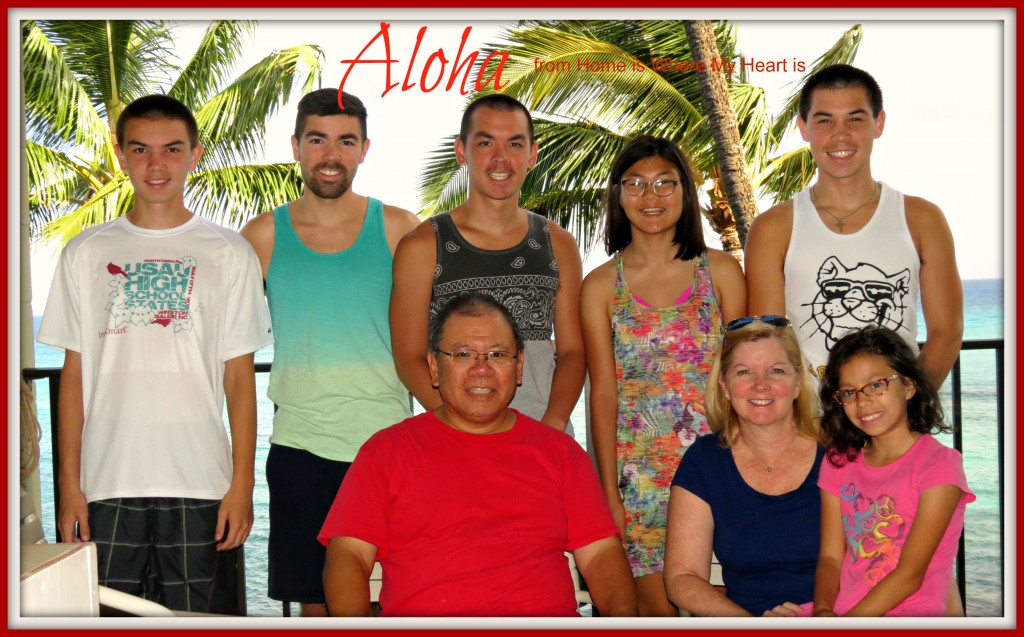 Our family was blessed to be able to go on a family vacation to Maui this past week. It has been on my bucket list since I was a little girl and we finally got to go. It was costly because of our large family BUT it was worth EVERY cent!!
Because each day was jam packed with fun things, I'd like to drag it out  share each day as a separate blog post. I hope you will enjoy and maybe even imagine yourselves sitting on the beach, snorkeling, and exploring the volcanoes along with us. Or maybe I'll get you excited to take your next family vacation on the beautiful shores of Maui.
We made all our reservations through BookIt.com. They were great to work with. They answered every question and eased our anxieties as the trip dates were approaching. We flew US Airway and, again, everyone was wonderful, friendly and very helpful.
If I had to say one negative thing about our trip (and I really don't want to!), the flying was a long day. We flew from Raleigh-Durham Airport to Charlotte/Douglas International Airport (one hour) with an hour layover. Then onto Phoenix Sky Harbour International Airport (5 hours) with a half hour layover. Then off to Kahului Airport (almost 7 hours). It was a long day so we were happy to land in Maui.
The Maui Airport is all outside so as we walked to the rental car shuttle van, we felt the warm, breezy Hawaiian air and saw the tall, tilting palm trees.
AAHH Paradise!!
The Avis Rental Car van driver saw one of the boys' Appalachian State University t-shirts and he commented that he was from Caldwell County which is right near Watauga County where App State is. His Southern accent made us feel like we were at home.
Here is a map of the island of Maui.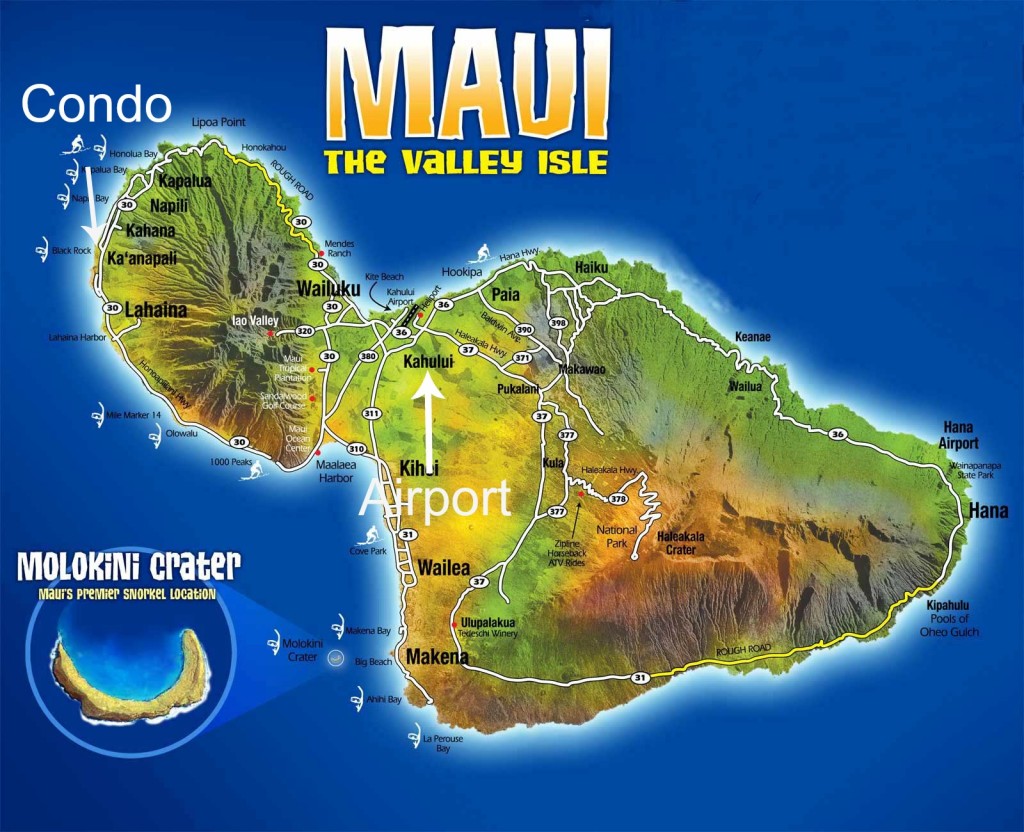 The airport is located about center top of the map in Kahului. To get to our condominium, we drove about an hour west to the coast then north to Ka'anapali. 
We stayed at the Noelani Condominium Resort. From the street, it doesn't look like much but once you walk into your room….
WOW!!!!
We rented a 3 bedroom/2.5 bath and we were on the third floor.
This was our view: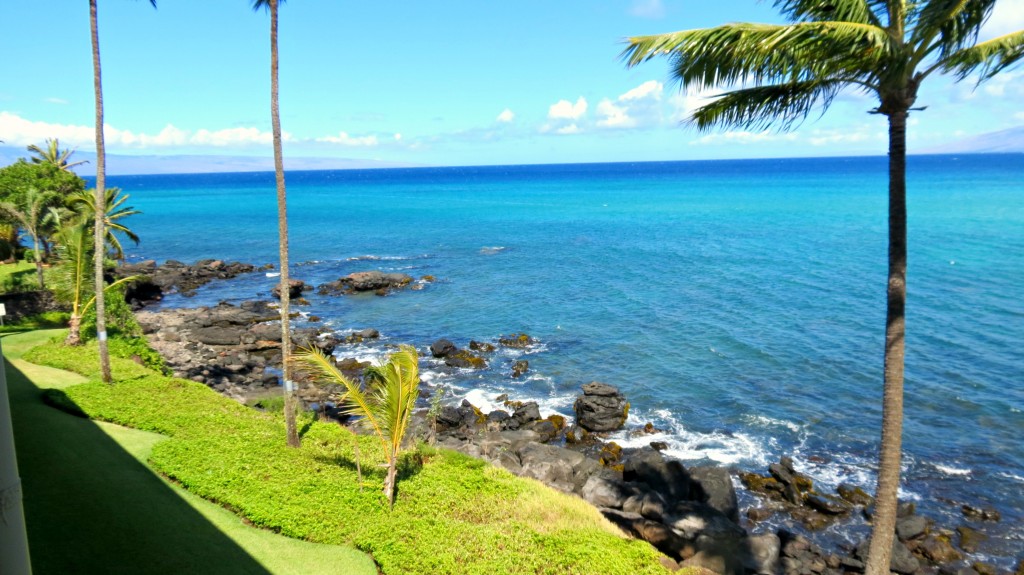 We found out when we arrived that the building did not have air conditioning. It didn't matter. The breeze through the open sliding glass doors every night was absolutely heavenly!! 
Some pictures of our condo.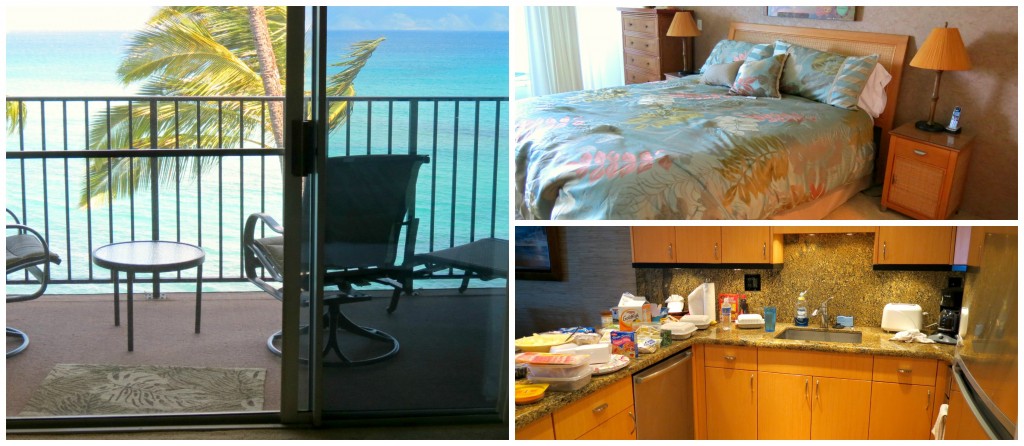 It also has a pool, heated pool, an outside kitchen, a hot tub and large gas grills.
When we arrived on the island after a whole day of traveling, we were exhausted. 
We went to a nearby sports bar, Dollies for dinner. The boys were happy because they got to watch the FIFA World Cup on the multiple televisions that surrounded us. We went to bed shortly afterwards seeing that it was really about 4 AM according to our body's clock.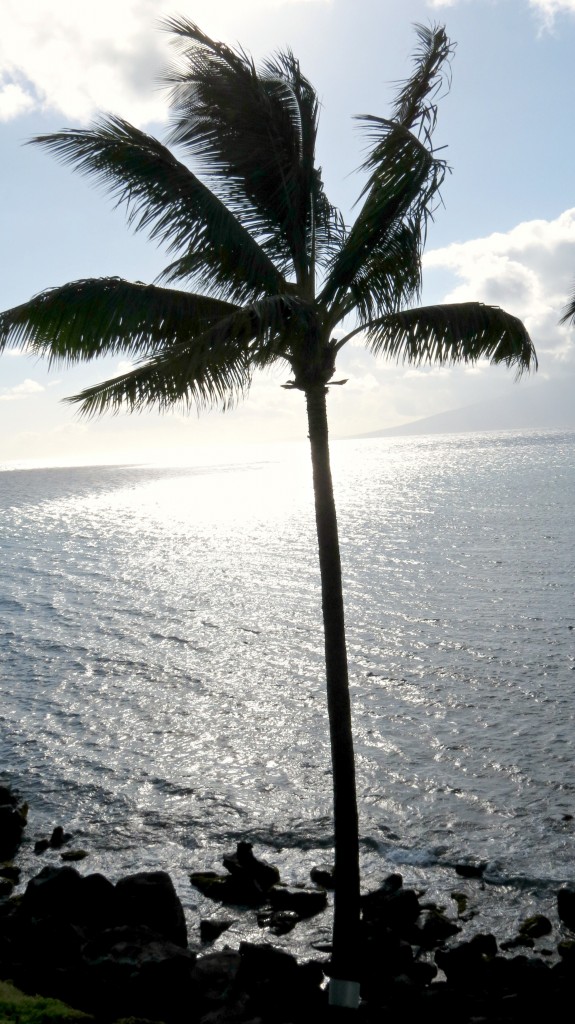 GOOD NIGHT 
and 
ALOHA!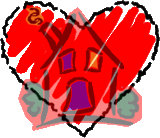 Love y'all,
Linda