When we were doing our research on Maui before we set off on our trip, we read a lot about the Road to Hana.
"Beautiful scenery"
"Long and winding road"
"Single car bridges"
"Beautiful waterfalls and pools"
"Don't drive it yourself. Hire a tour guide."
After waking up very early to beat the rush of other tourists, we ended up driving it ourselves because a tour guide for eight people cost a fortune so Son #1 drove it for us. Again, he did a great job. The road has 600 turns and 54 one-lane bridges. We stopped at a few waterfalls to get some great pictures and we stopped at a beach that was beautiful! We also swam in the Seven Sacred Pools past the town of Hana. We learned that they are not sacred pools at all. Just a tourist draw.
The drive up the mountain to Hana with stops took us about six hours.
KEANAE ARBORETUM
Our first stop was to the Keanae Arboretum. It's a 6 acre botanical garden within a rainforest with 150 different tropical plants. And may I just add there's lots of mosquitoes too.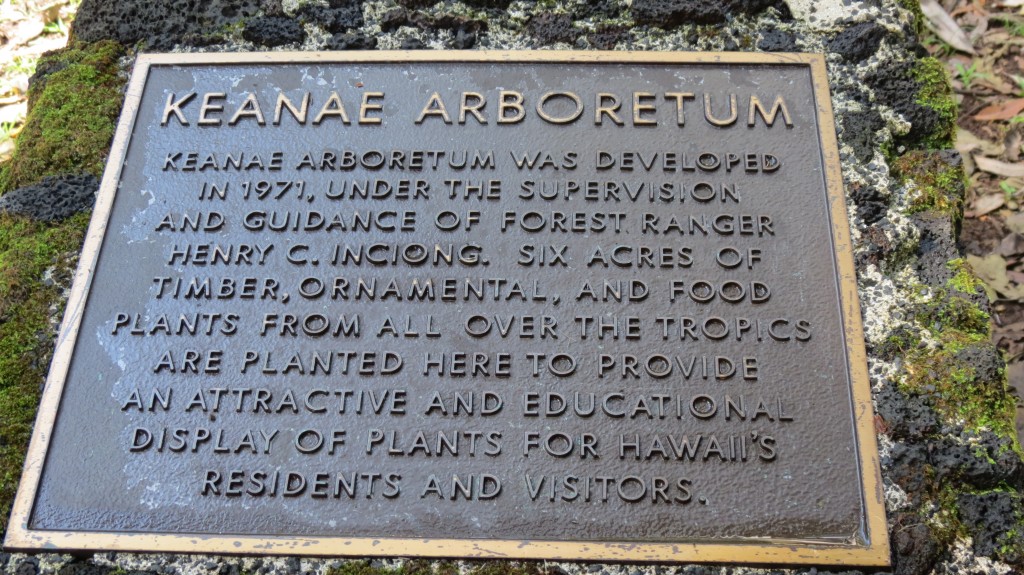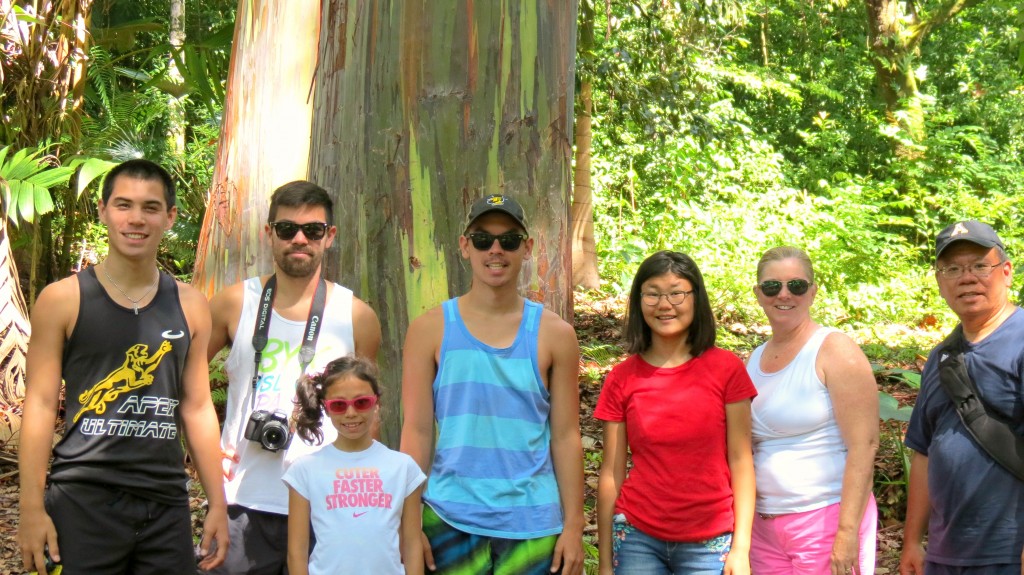 KEANAE PENINSULA AND VILLAGE
Our next stop was Keanae Peninsula and Village a beautiful cove. Great picture opportunity.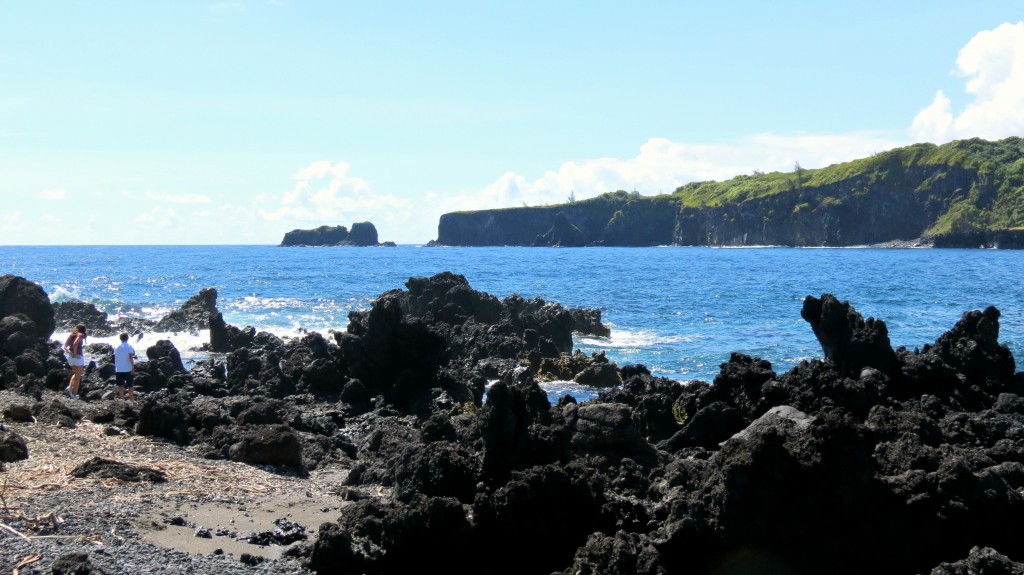 Beautiful scenery!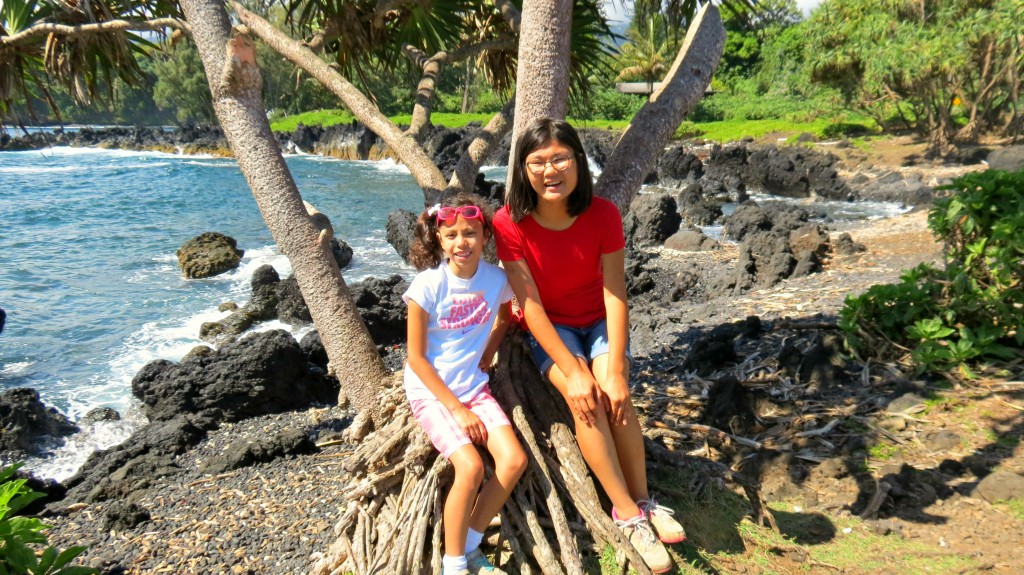 Beautiful girls in beautiful scenery!
The boys found a coconut and spent the next half hour trying to open it. What a mess!!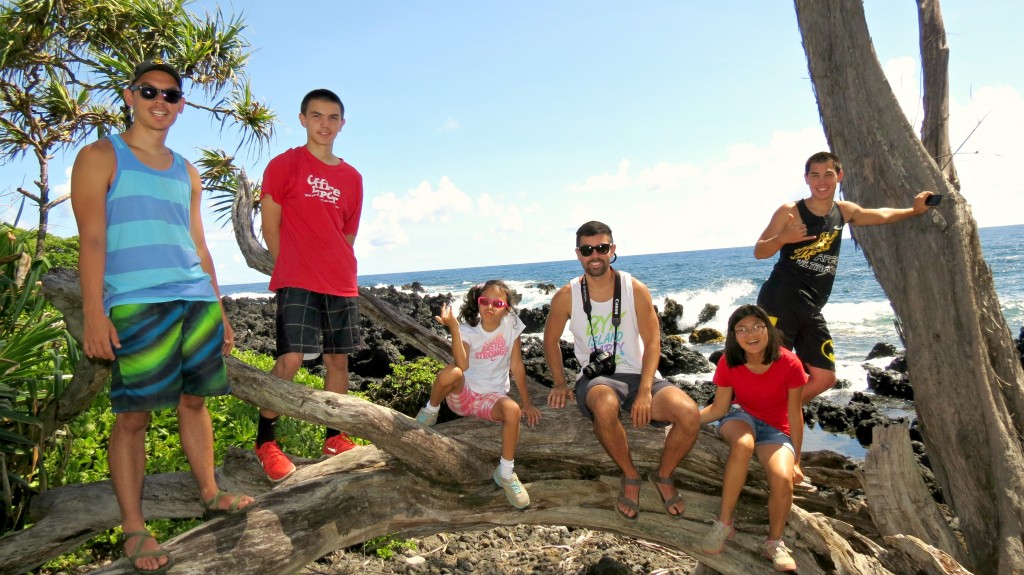 CHING'S POND
Our next stop was Ching's Pond, a hidden pool and waterfall off the beaten path. The kids said the water was really cold.
One of the one lane bridges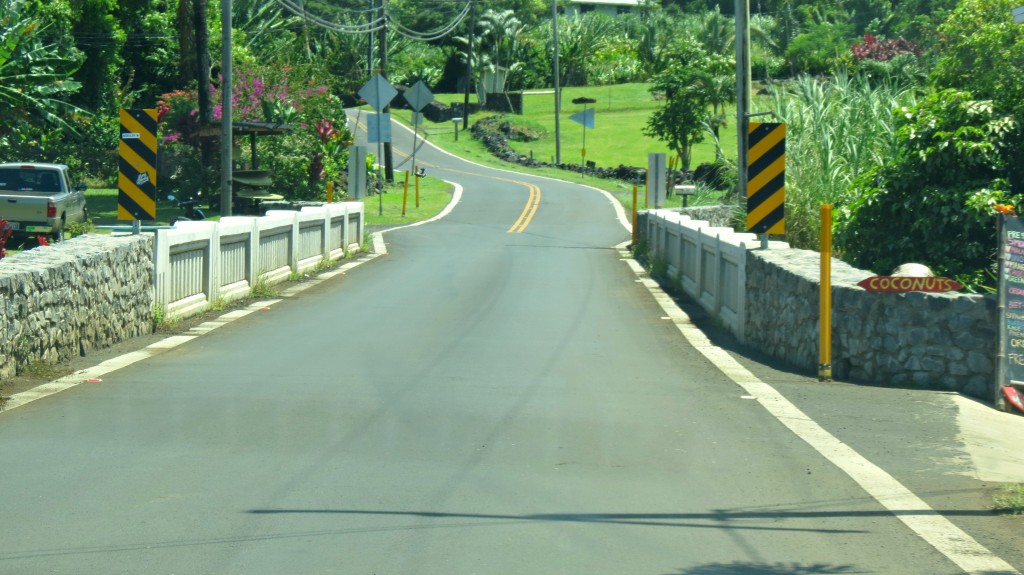 WAIKANI (THREE BEARS) FALLS
We stopped along the road to see the Waikani (Three Bears) Falls.
WAI'ANAPANAPA STATE WAYSIDE PARK
We stopped at the Wai'anapanapa State Wayside Park for lunch, a walk through some caves and a swim in the ocean.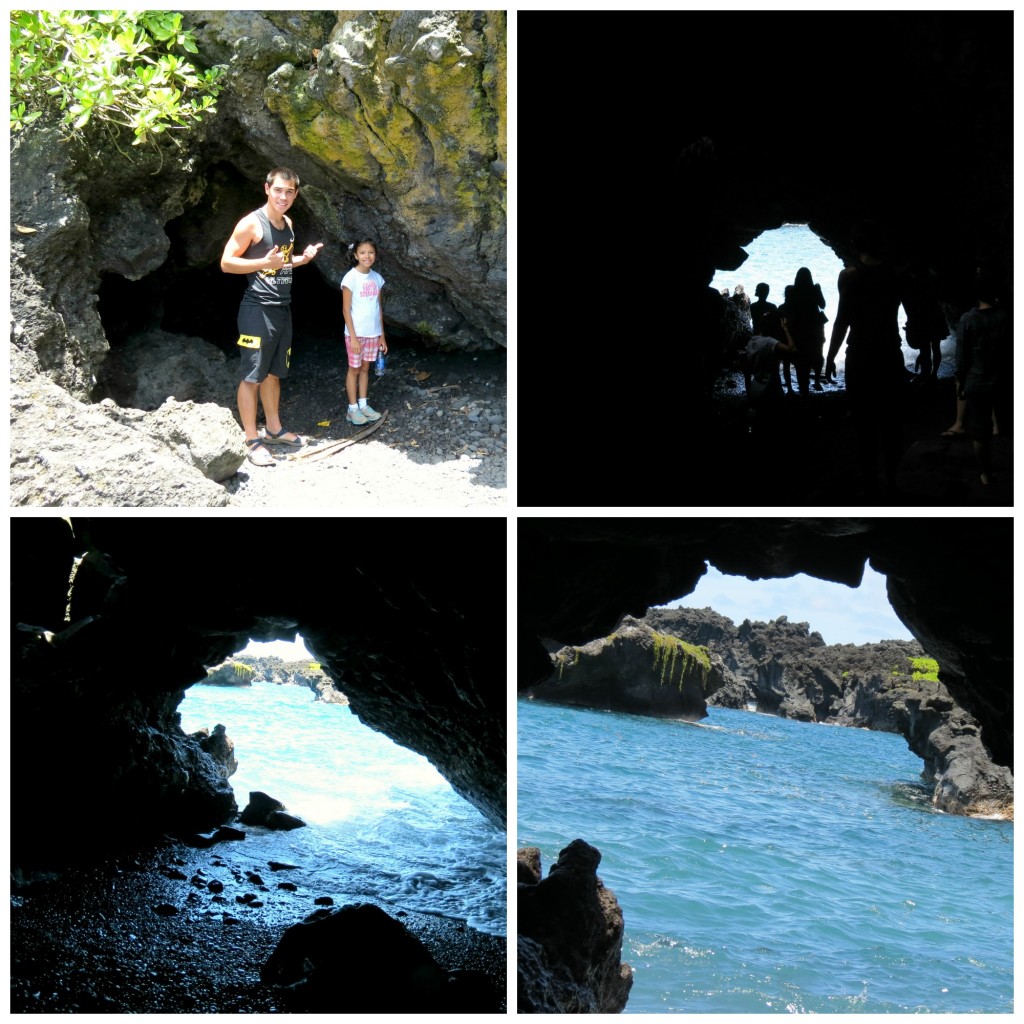 The above story we heard a few times while we were here. We went into the cave where the shrimp were but it was too dark to see anything.
KOKI BEACH & ALUAU ISLAND
We stopped at the Koki Beach & Aluau Island which is a popular beach among the locals.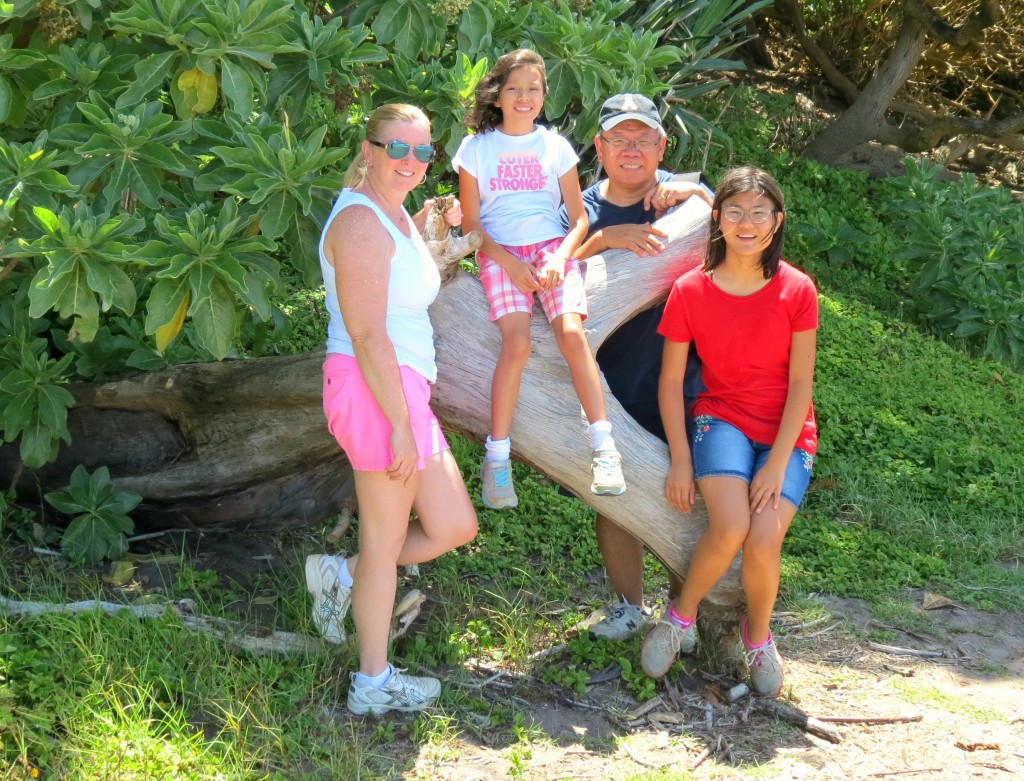 OHE'O GULCH (SEVEN SACRED POOLS)
After driving through the town of Hana, we drove to the Ohe'o Gulch (Seven Sacred Pools). We learned that the pools are not sacred at all, just a tourist draw. The kids went swimming in the lower pool, then the boys climbed behind the waterfalls and jumped off the medium cliff. Then the boys got brave and walked up to the higher pool and jumped off an even higher cliff. Son #2 didn't feel like swimming so he watched on the rocks.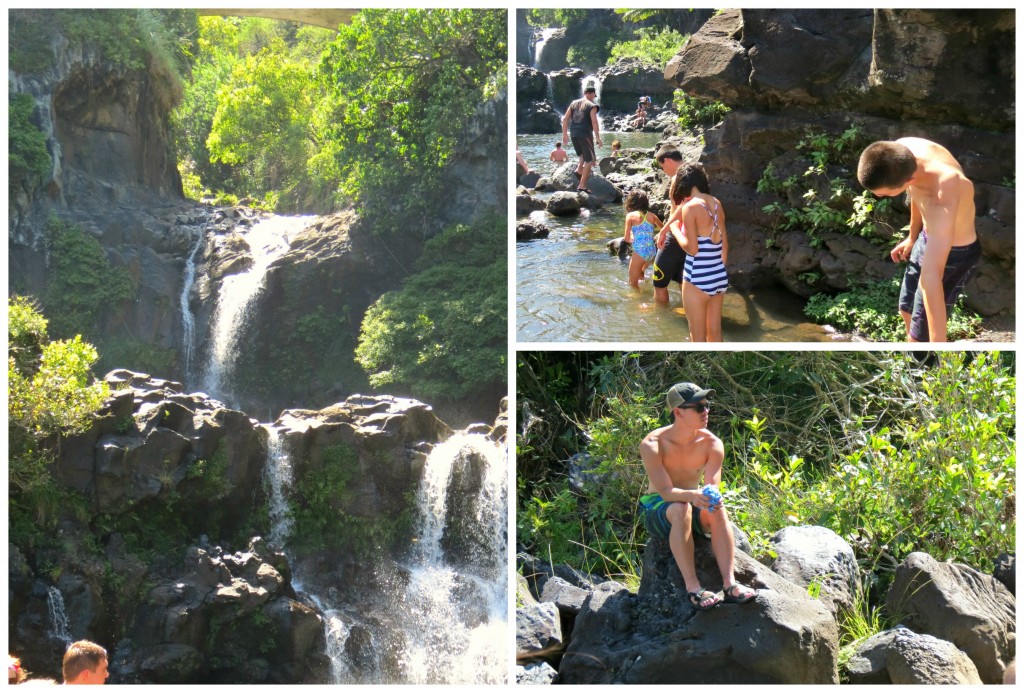 Son #4 jumping in.

Son #1 jumping in.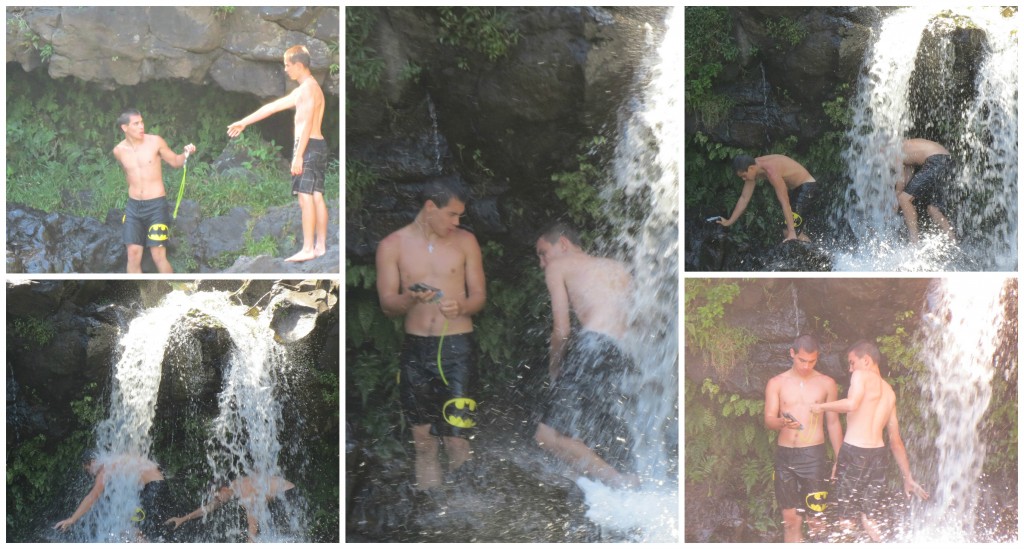 I didn't get a picture of Son #3 jumping in. I'm so fired!!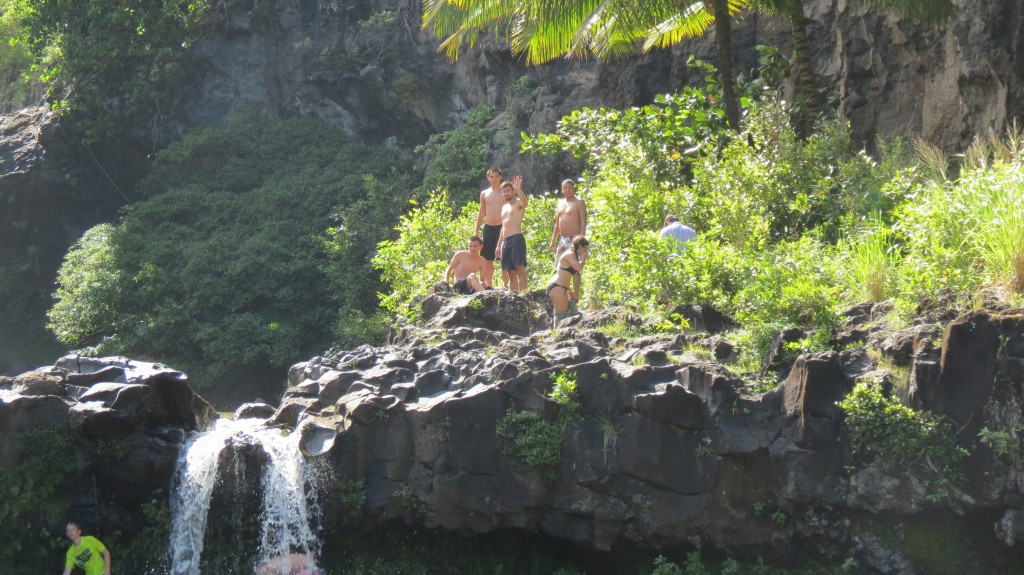 Here the boys are on the higher pool and yes, they did jump in!! The LOML videotaped their jumps so I don't have pictures.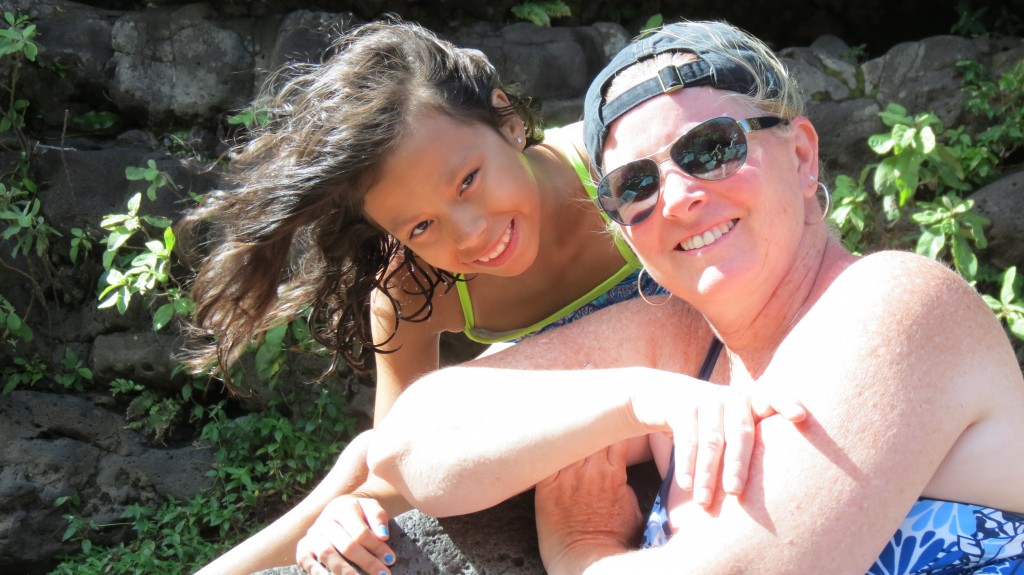 Me and the birthday girl!!
After a great day, we headed back. It only took about 2.5 hours to drive back. Boy, were we hungry. We stopped at the small town Paia again and this time we ate at the Paia Fish Company. It was a very laid back kind of restaurant where the long tables were nailed to the wall. You sat at long benches. You ordered your food, found a seat, picked up your meal when it was ready from the kitchen, sat down and ate, then brought your empty plates to the kitchen again. No overhead! And the best part, the food was delicious! Daughter #2 and I shared Seafood Pasta and it was way too much for the two of us. The LOML loved his grilled Ahi with rice and coleslaw. YUMMY!!
What a great day of fun!! Come back tomorrow and hear about our last full day on the island of Maui.
Good night!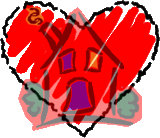 Love y'all,
Linda