Last week, we celebrated our 30th wedding anniversary with a vow renewal at a beach house we rented in Corolla, North Carolina, about 4.5 hours drive for us.
Although the weather was predicted to be pretty wet, we headed to the shore anyways.
Here was our view as we drove east. The downpour is to the left.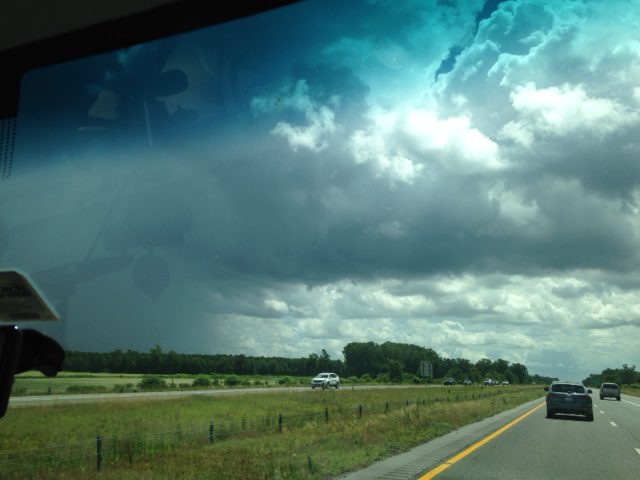 When we arrived, we were ecstatic about the rental house. It was a beautiful four bedroom, two bath home with a pool, hot tub, lots of porches and is in walking distance to the beach.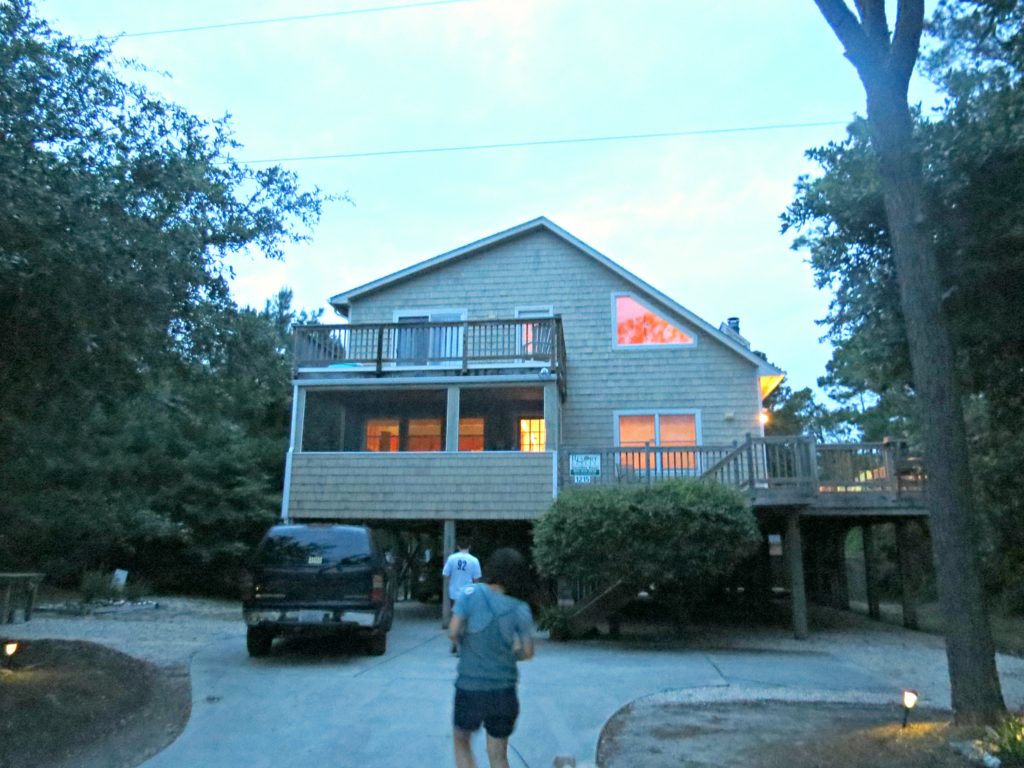 These signs hung in our very large kitchen.
DAY ONE
Today was Father's Day and Daughter #2's 13th birthday! We made a nice breakfast of eggs, bacon, hashbrowns, and fruit.
For our first day,of course, we went to the beach!! The forecast all week was hit or miss rain so we took every dry chance we could to spend it on the beach. Our beach house was at the other end of a cul-de-sac (not the circle part) where the cul-de-sac led to the ocean. We got to get in a little walking then lay on the beach. The water was very cold!
When we got home, we took a dip in the pool and then the hot tub. What a great house!!
Even the dogs went into the water. I'm pretty sure they hated it!
We went out to dinner at Jimmy's Seafood Buffet where we tried lots of different kinds of crab legs. They had stone crabs, Alaskan King crabs, Seattle Dungeoness crabs, local blue crabs and Norwegian crabs. I stuck with the Alaskan and they were yummy!! The LOML enjoyed the Seattle Dungeoness. Crab legs are my favorite!!!!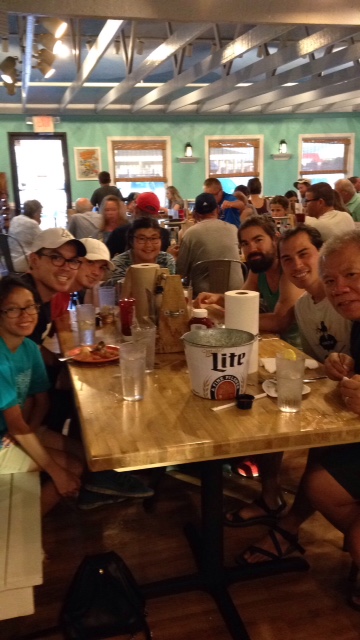 To walk off all the crab legs, we went to Jockey's Ridge, which is a huge sand dune that you can walk on. We got to see the beautiful sunset.
Take note: I am the only one who looks like she's working really hard to walk through the sand. You should have seen me walking up the dunes. Lots of panting was involved!!
It was very windy on top of the dune.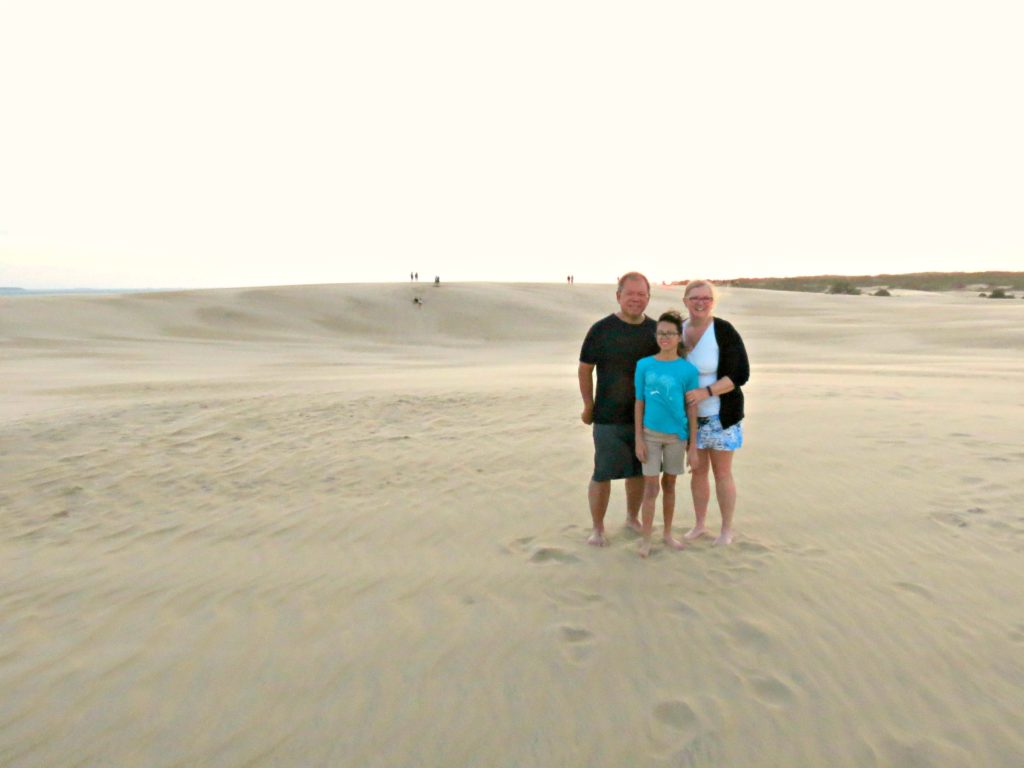 Mom with the Birthday Girl and Father of the Year!
These beautiful people are why I wake up smiling every day, have grey hair (the blonde is from a box), wrinkles, and a few extra pounds. I am so blessed!!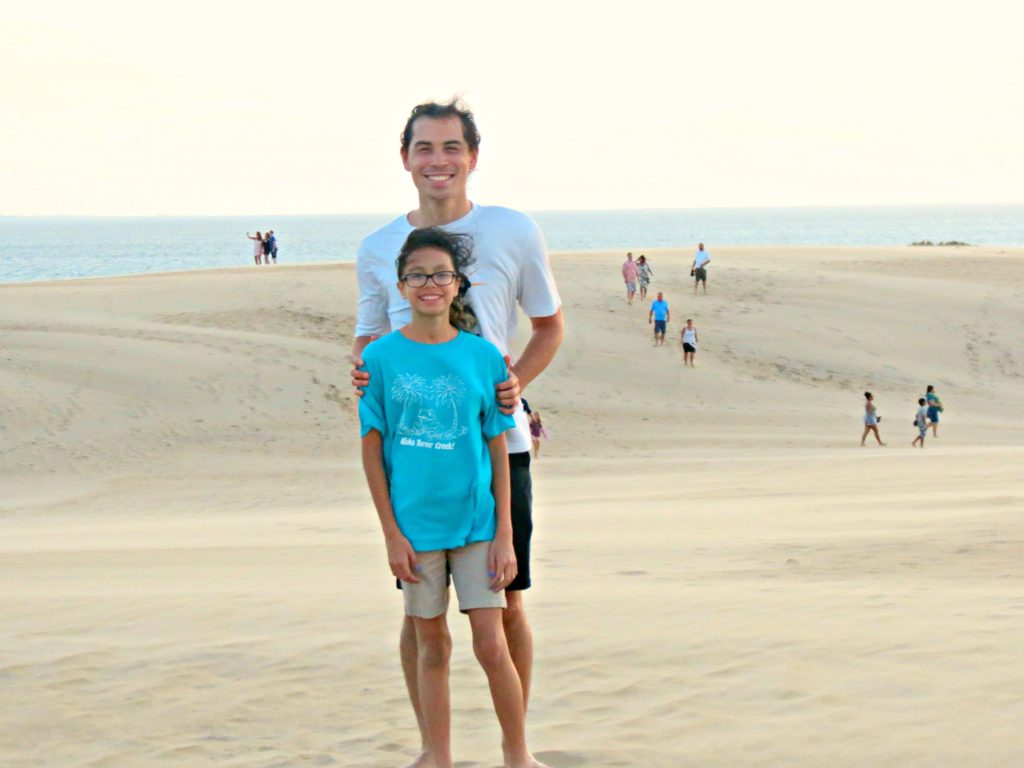 We went home and had birthday cupcakes and gave Daughter #2 her birthday gifts.
DAY TWO
If you read my little ol' blog regularly, you know the LOML and I recently celebrated our thirtieth wedding anniversary. The main reason for this trip to the beach was to have a vow renewal ceremony. You can read all about it here. Because this week was hit or  miss with the weather, we decided to do the ceremony today because it had the lowest percent chance of rain. The ceremony was beautiful and heartfelt and there were a few tears shed. I'm looking forward to the next thirty years with the LOML (Love of my Life).
DAY THREE
This was the wettest day so far. We hung around the house, swam in the pool and hot tub and just hung out. We found out there was a ping pong table in the utility/laundry room so we all played a few games. We tried to go see "Cars 3" but it was not the most original idea so we changed direction and headed for a nice dinner at Bubbie's Burgers. Son #2's beautiful girlfriend joined us for some beach time. We were so glad she came. After dinner we had a family game night.
DAY FOUR
We started the day with a little ping pong tournament. I grew up playing with my family so I've always been able to beat my kids but now that they're older, some of them are determined to beat me. Son #3 ended up tying me 7 games-7 games.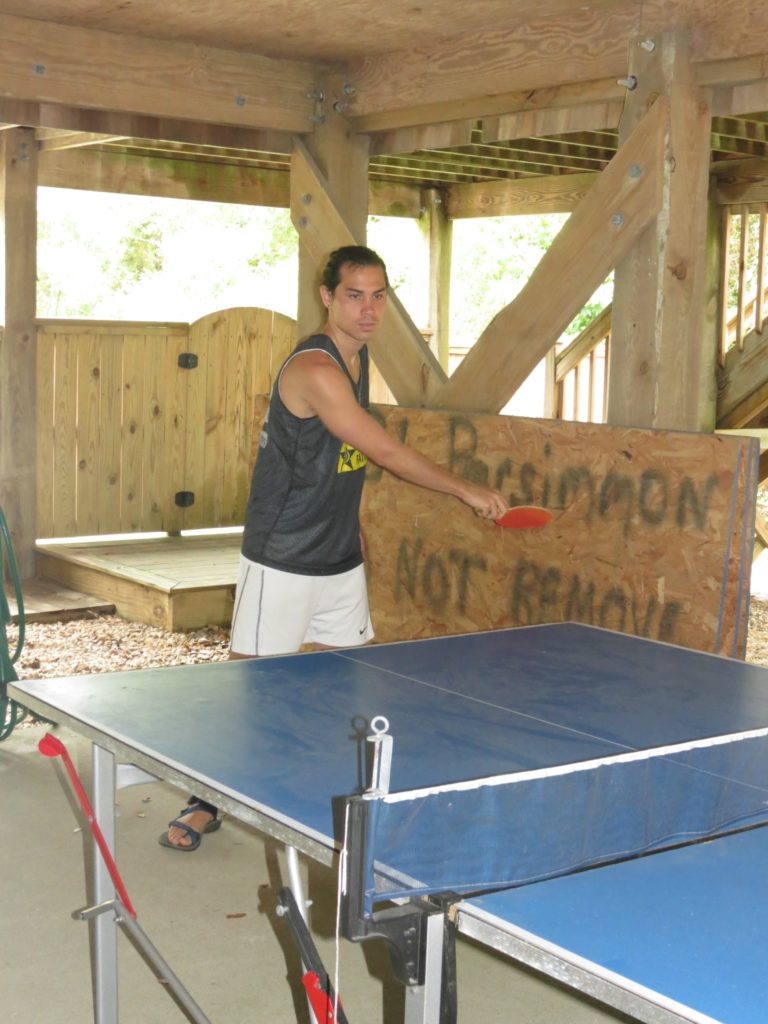 We headed to the beach again today. It was cloudy but the sun came out later on so it ended up being a beautiful beach day.
DAY FIVE
Today we toured Historic Corolla Park, a sweet little town with quaint shops and the Currituck Lighthouse. We ate lunch at Uncle Ike's Restaurant where we sat at a very large square table. Guess what they had in the back of the restaurant??? A PING PONG TABLE!! So Son #3 and I played a game before lunch and sadly, he beat me 🙁
Two hundred and twenty steps later, we were on top of the lighthouse. The views were beautiful. We could even see our beach house from here.
The LOML  and I went food shopping at the nearest Harris Teeter and made baked ziti, garlic breadsticks, and salad for the kids. Because the LOML and I are on this "Always Hungry" diet (which you can read about here), we had zucchini spirals and Johnsonville summer sausage.
DAY SIX
Today, some of the kids had to leave for various committments (frisbee, band gig) so the rest of us started the day off with a nice walk on the beach. Daughter #2 loves looking for shells along the shoreline. I got to take some pictures of some beautiful beach houses. Go ahead and drool. I did! Today had pretty grey skies so we didn't stay long.
On all our beach walks, we were surprised to see so many ghost crabs running in and out of their little holes.

Both girls wanted to play in the pool and hot tub so we walked back to the house. I read my book and cuddled with the dogs.
We decided to leave a day early only because our last son, Son #3, was leaving today and I really just wanted to get back home, unpack, do laundry, and sleep in our own beds.
We had a great family vacation in Corolla and would recommend it highly.
What are your plans for the Fourth of July?
We're just taking it easy, spending some family time, and lighting some sparklers in the backyard.
Hope y'all have a wonderful and safe holiday.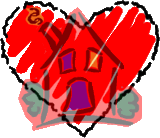 Love y'all,
Linda