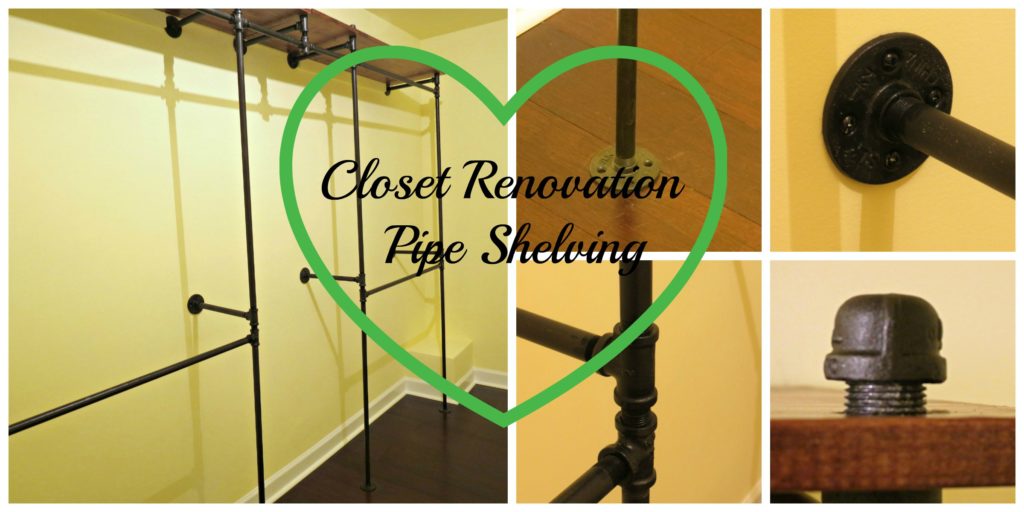 We're slowly but surely progressing with our master bedroom closet.
If you remember from my last closet post, we decluttered and organized  all the crap important items in the closet.
We've also painted the walls a cheery yellow, and laid engineered wood floors just like our upstairs hallway.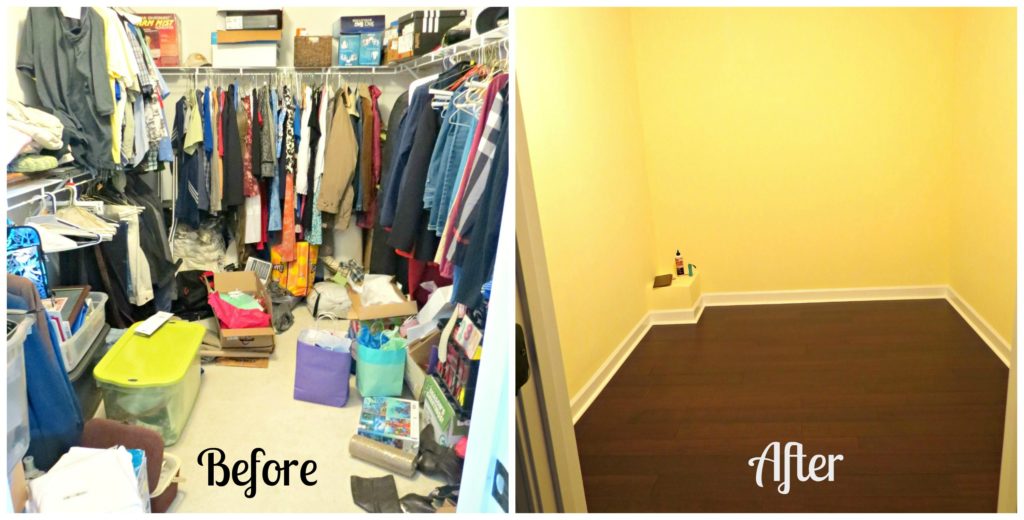 After we finished this part of the project, life got in the way….end of school year, vacation, vow renewal, frisbee tournaments, etc. Now that life is starting to slow down a little bit (and not for very long) we've started again on the closet.
Here's our inspiration picture.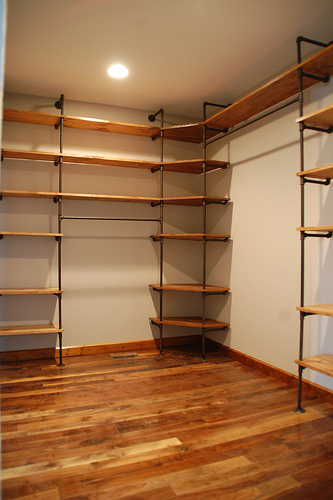 We first drew a plan for one side of the closet – the left side that will hang our clothes.
The two side sections are for shorter clothes and the middle section is for longer clothes.
Next, we made all the measurements for the piping.
The piping comes in 12″, 18″, 24″, and 36″ poles so we wanted to try to keep to those measurements instead of having them custom cut.
For our plan, we initially bought: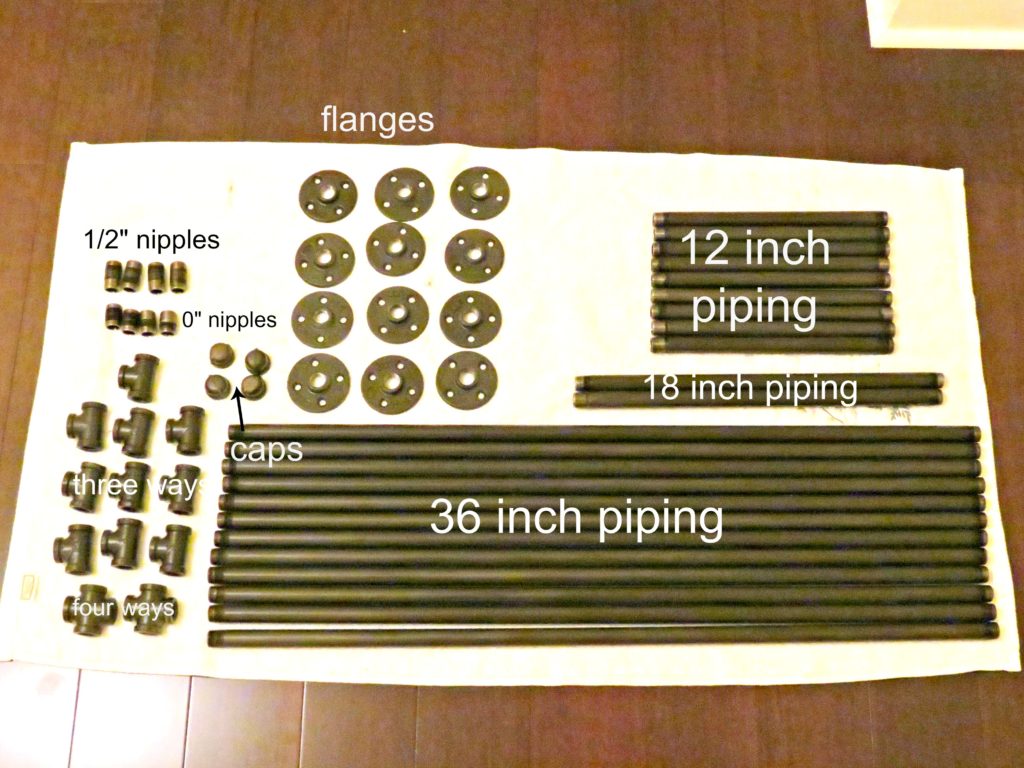 knowing we'd probably have to run to Lowe's/Home Depot a few more times.
We're breaking up the left side into three separate sections. The two end sections have a short hanging bar and a high hanging bar for short clothing (shirts, pants, skirts). The middle section will have one high hanging bar for long dresses, coats, etc. We put together one of the three parts to make sure everything fit together. A secret we figured out by just finagling the pipes is when you twist a pipe into the three way, then twist the other end of the pipe into another three way, you undo the first connection. Do you understand what I'm trying to say? What we did to fix this problem was we twisted the first connection very tight. Then when we twisted the other end, we loosened the first connection but not all the way. Both ends are connected but not really tight. I hope you can picture what I'm describing (and very poorly I might add)!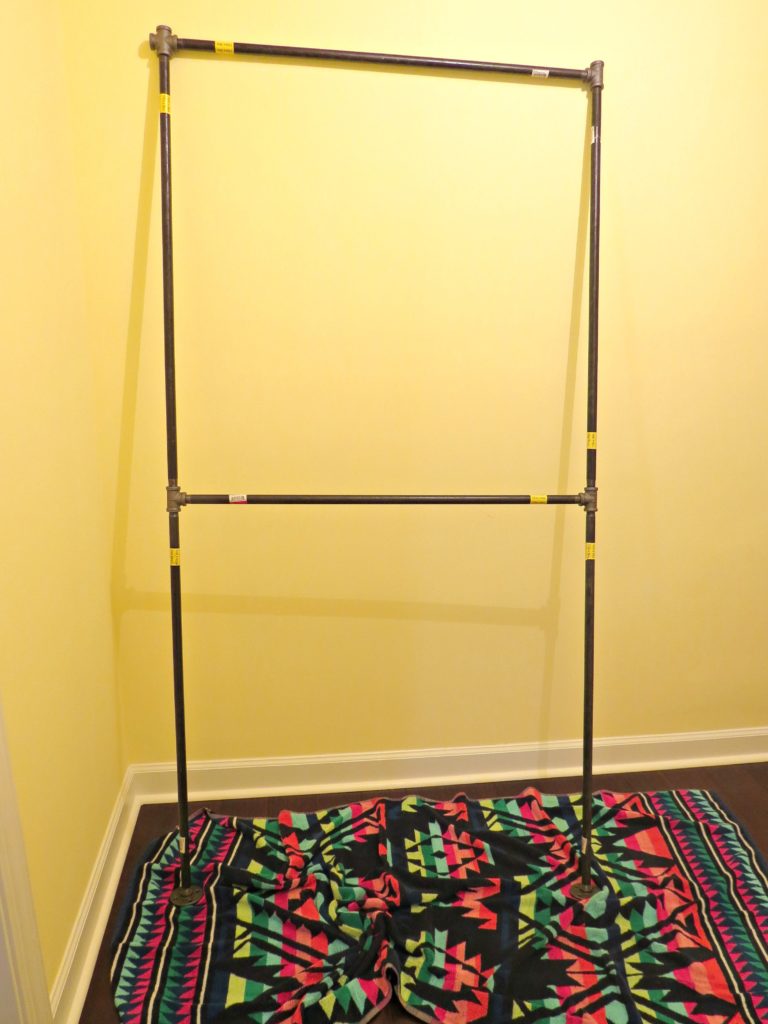 Once we knew everything fit together and our measurements were correct, we cleaned all the pieces with GooGone to get all the sticky stuff off after we peeled the stickers off. Then we wiped everything down with clorox wipes. After the piping dried, we painted each piece black with Rustoleum spray paint. We gave them two coats followed by two coats of polyurethane.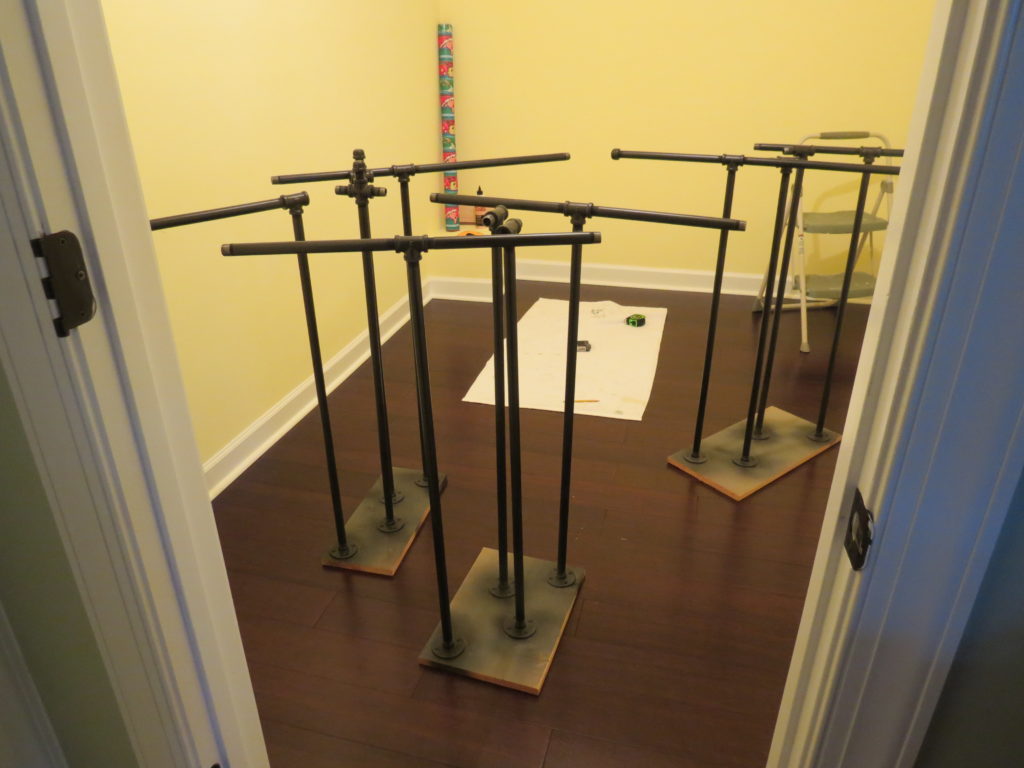 The LOML did some research (he's so good at that!), and found a system to easily spray paint every piece of piping all in one shot.
He screwed the flanges into a board, then screwed a pipe into each flange. Then screwed the smaller pieces to the end of the pipe. Whoever thought of this was a genius!! We sprayed painted everything outside, not in the closet!!
Once everything was dry, we constructed all the sections just like the drawing.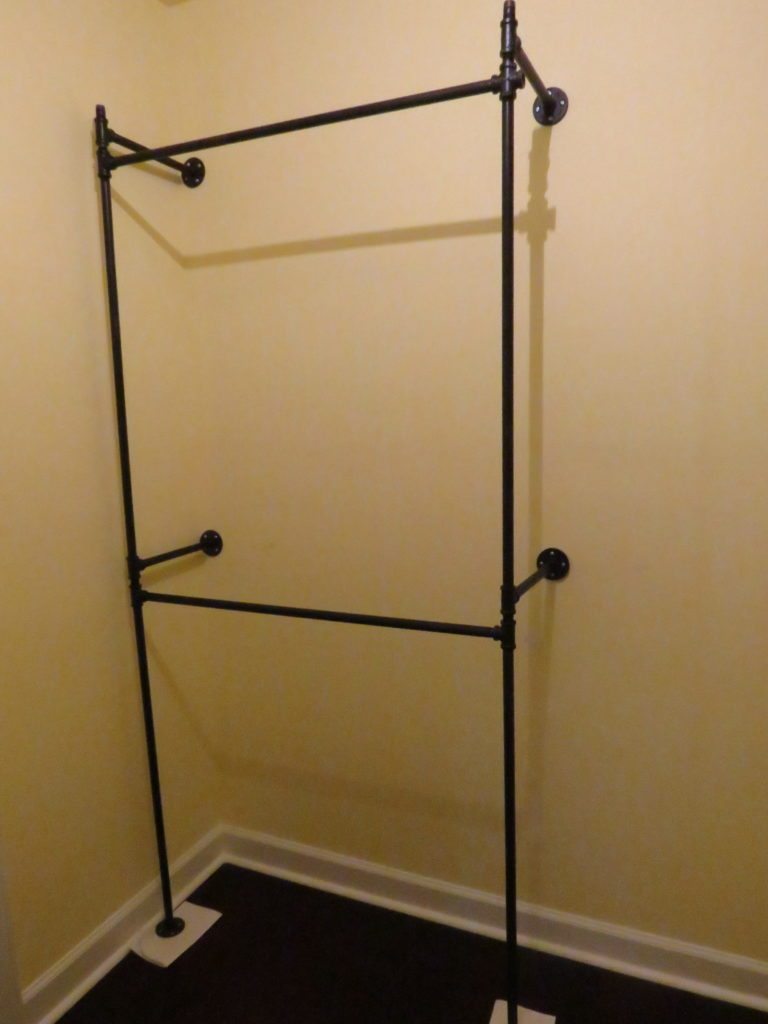 We connected the three sections together and it almost looks like a real closet!!
We drilled four holes per flange trying to hit the studs. We know we got them into two of them. For the rest, we used wall anchors and screws.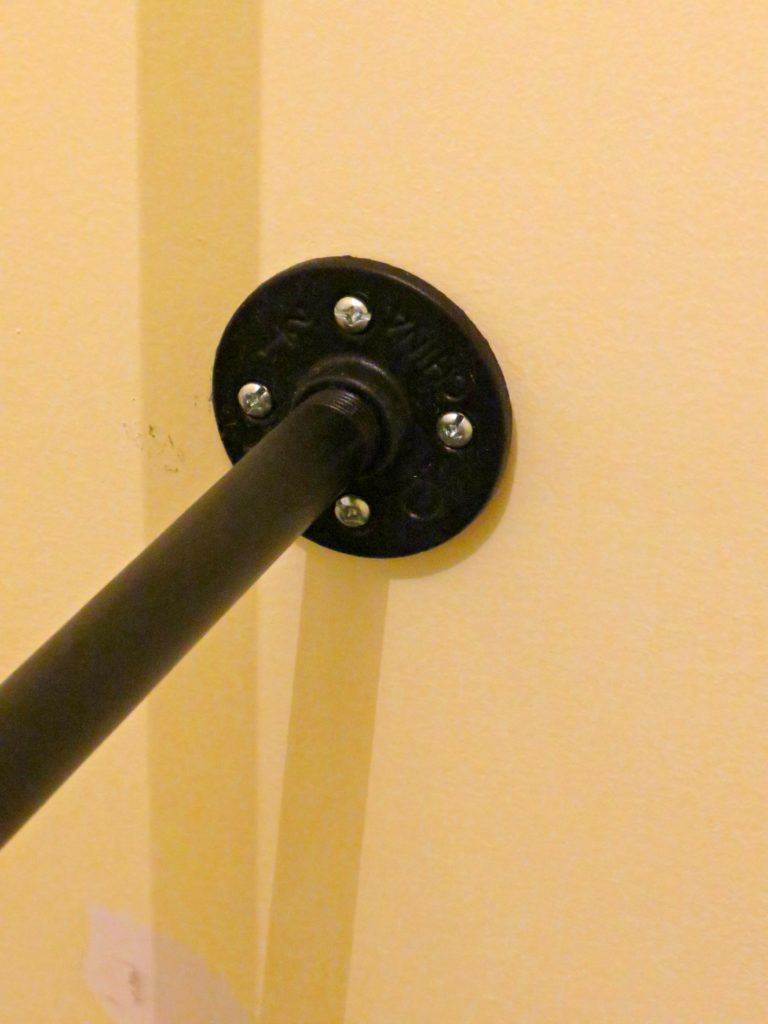 I later touched the screws with a little black paint to look more uniform.
We wanted to have one wood shelf on the top that went across all three sections so we ran to our nearest Lowe's Home Improvement to look for some wood. We needed a nine foot board but we couldn't find one so we bought two 6 foot pieces of 3/4″ x 16″ wood and cut it down. We needed the shelf to be 14″ deep but regular pine boards only come in 12″ boards so we ended up buying Edge Glued Finger Joint pine board that came in 16″. The LOML got out his handy dandy table saw and trimmed the board to 4.5ft x 14″.  We wanted the piping to hold the board in place so the LOML drilled holes for the piping to go through.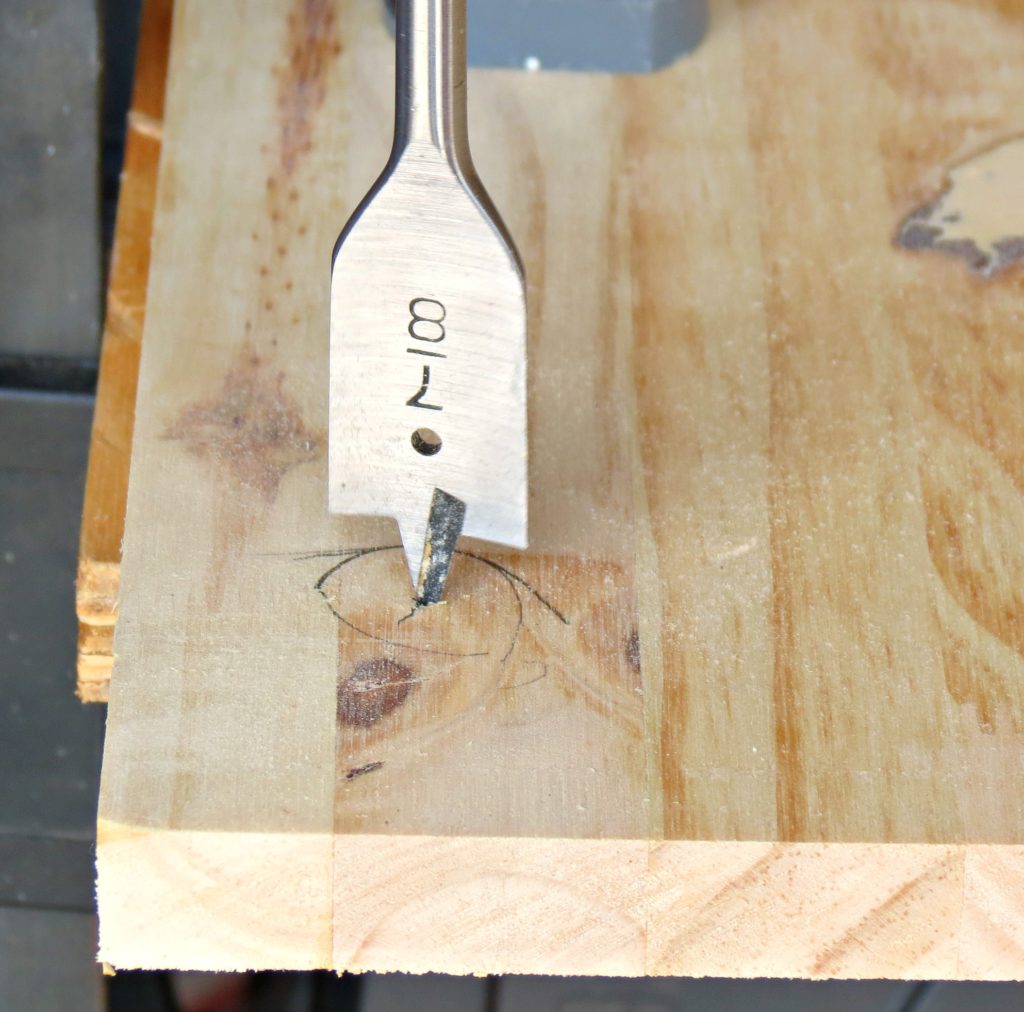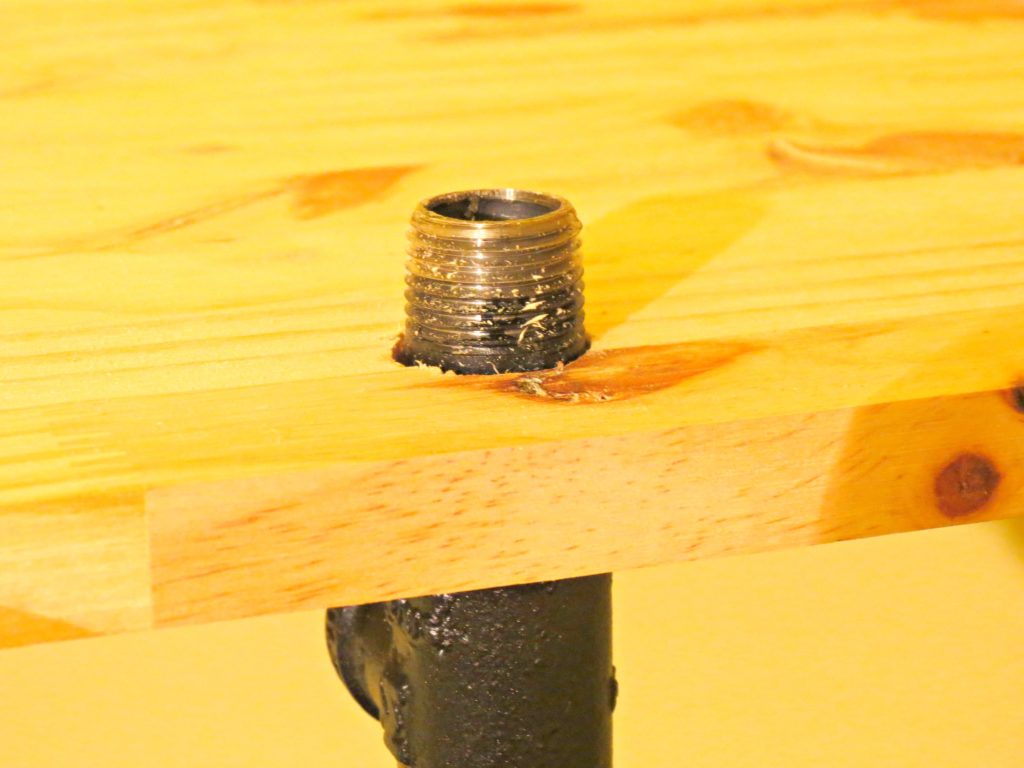 We're going to screw a cap on each piping top for a clean look.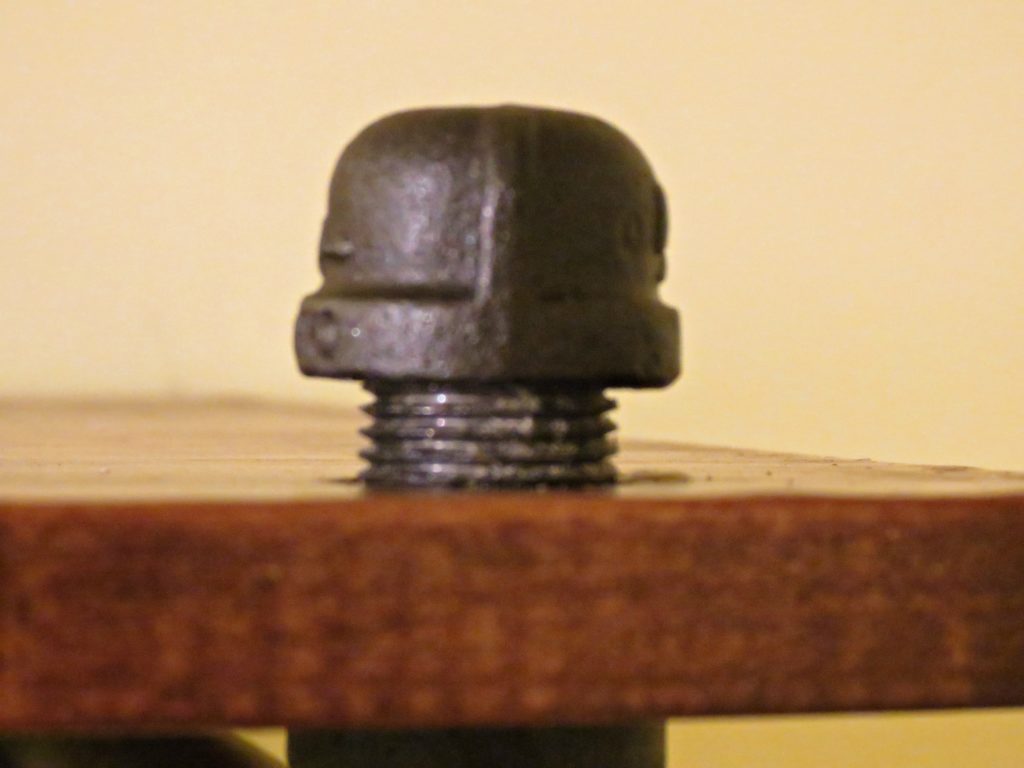 I conditioned the wood with Minwax Pre-stain Wood Conditioner. Then I stained both pieces of wood with Minwax Wood Finish red mahogany with two coats each side. Then I applied three coats of Minwax Waterbased Polycrylic protective finish.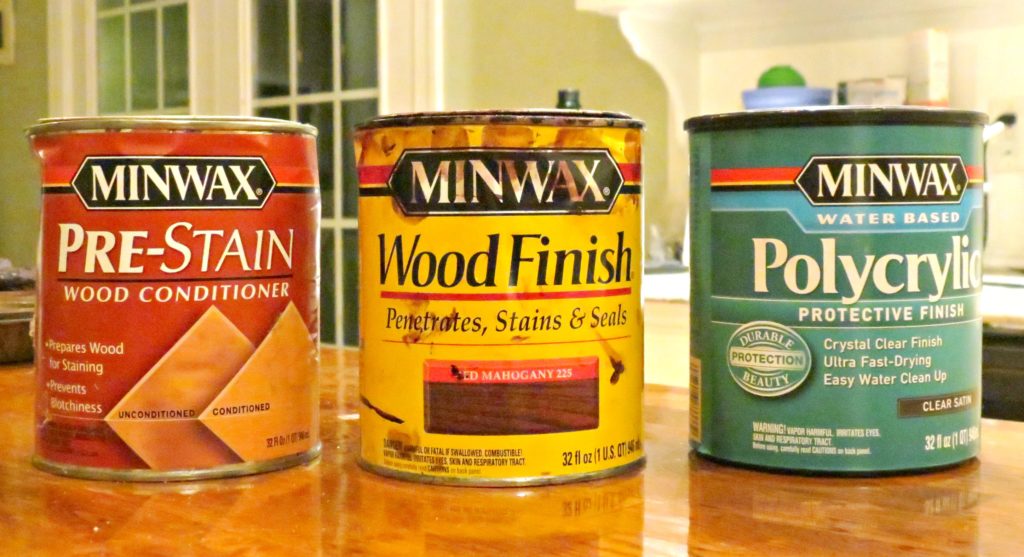 When we put the boards in place, the shelf was not level. The shelf dipped down to sit on the flange on the wall. So we had to placed 1×2 boards into the wall in between the flanges to make the boards lay level.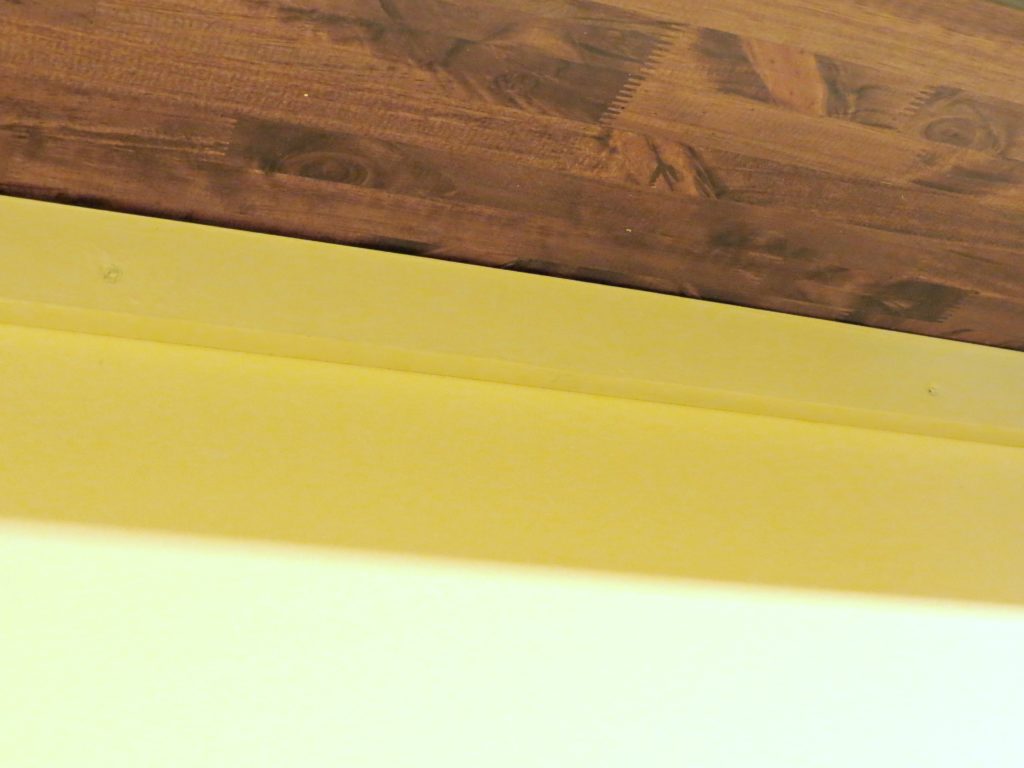 And the end result is beautiful!!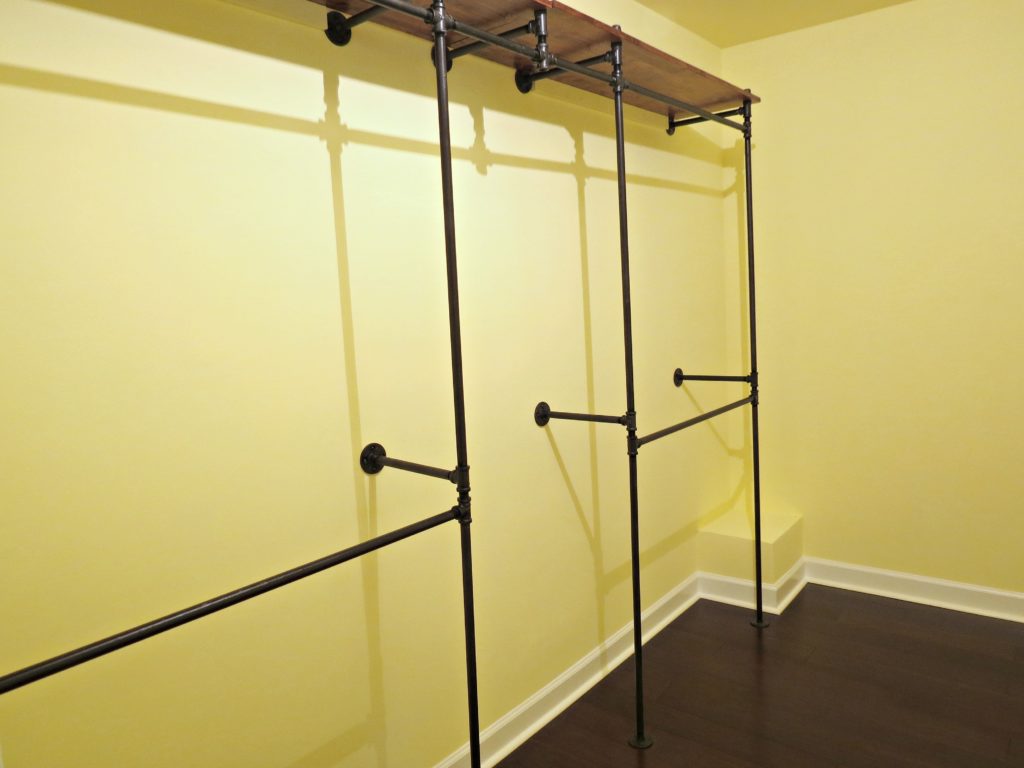 Another part of this closet project is to use this dryer vent box to store all the rolls of wrapping paper and rolls of fabric. I want to use the same piping to make some kind of box. I'm still thinking about that one.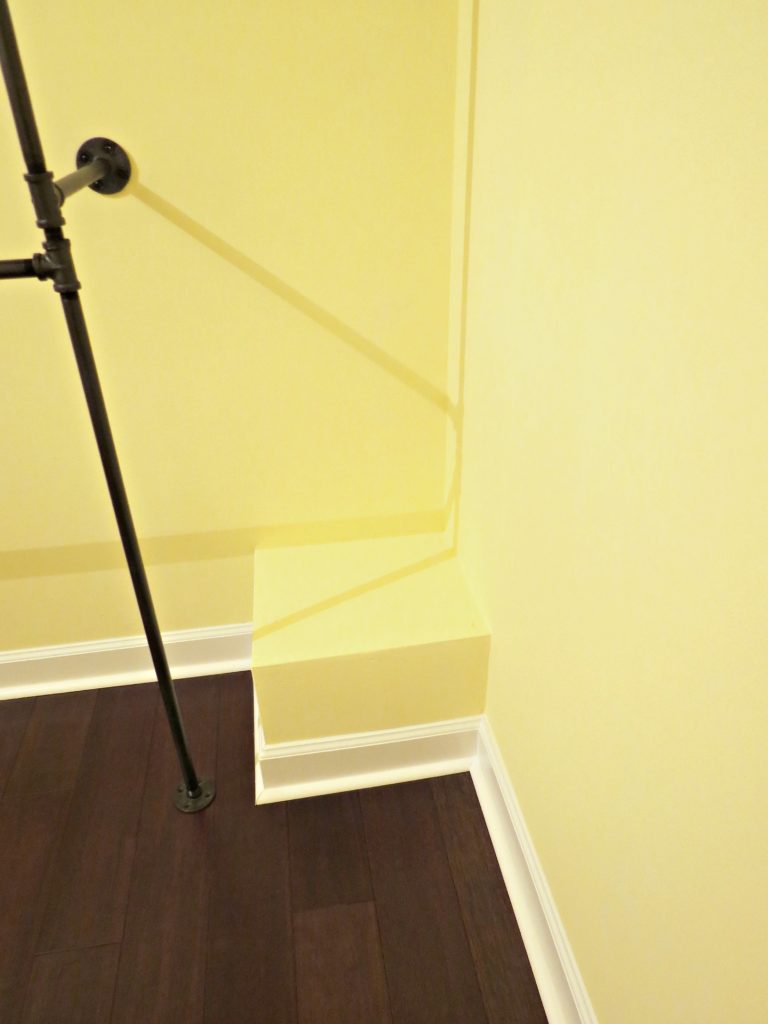 The back wall will be pipe shelving to display my shoes.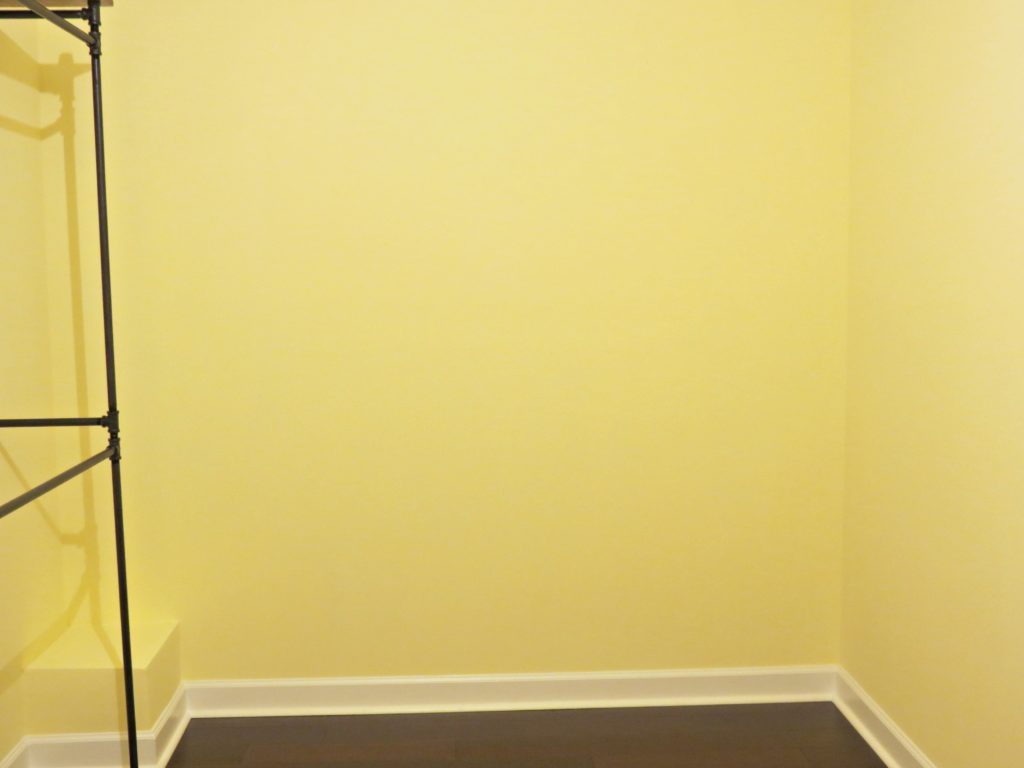 And the right side of the closet will be pipe shelving to hold basket of scarves, sweaters, hats, etc.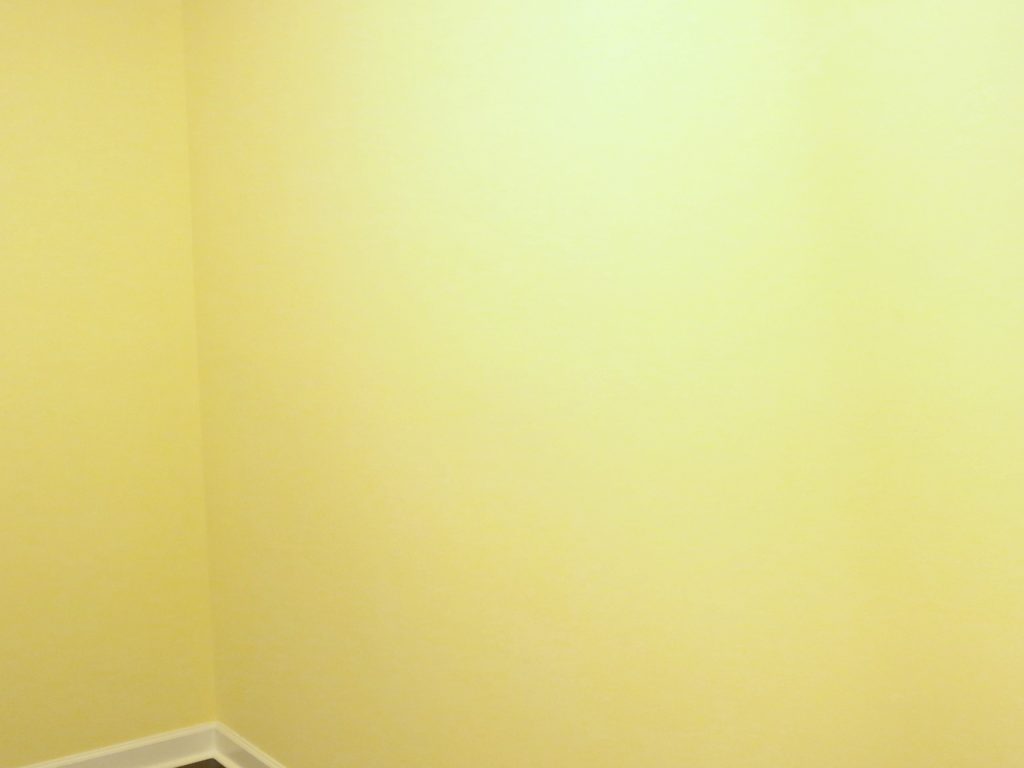 The closet is coming along slowly but surely. Three of my kids are back at school, one more is going back next week so I'll be able to spend more time on my projects. I miss my kids but I have to finish these projects. My master bedroom looks like a huge pile of clothes that has taken over my bedroom.
Cost of project:
13 flanges @ $4.73 ea.
9 – 12″ pipes @ $4.73 ea.
13 – 36″ pipes @ $9.48 ea.
14 three ways @ $2.45 ea.
3 four ways @ $4.59 ea.
8 – 0″ nipple fitting @ $0.93 ea.
4 – 1/2″ nipple fittings $1.75 ea.
4 caps @ $1.62 ea.
 2 – 6′ wood @ $14.39 ea.
Pre-Stain @ $11.37
Stain @ $7.39
Polycrylic @ $17.07
3 Rustoleum black spray paint @ $6.88 ea.
2 Rustoleum Satin Clear Enamel @ $3.88 ea.
For a total of……$389.30!!!
Well worth the blood, sweat and tears for this beautiful and useful 1/3 of my closet!
If anything was confusing or you have any questions about pipe shelves, just holler and I'll do my best to answer it.
Hope y'all have a great week!
Happy Total Eclipse Day!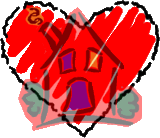 Love y'all,
Linda