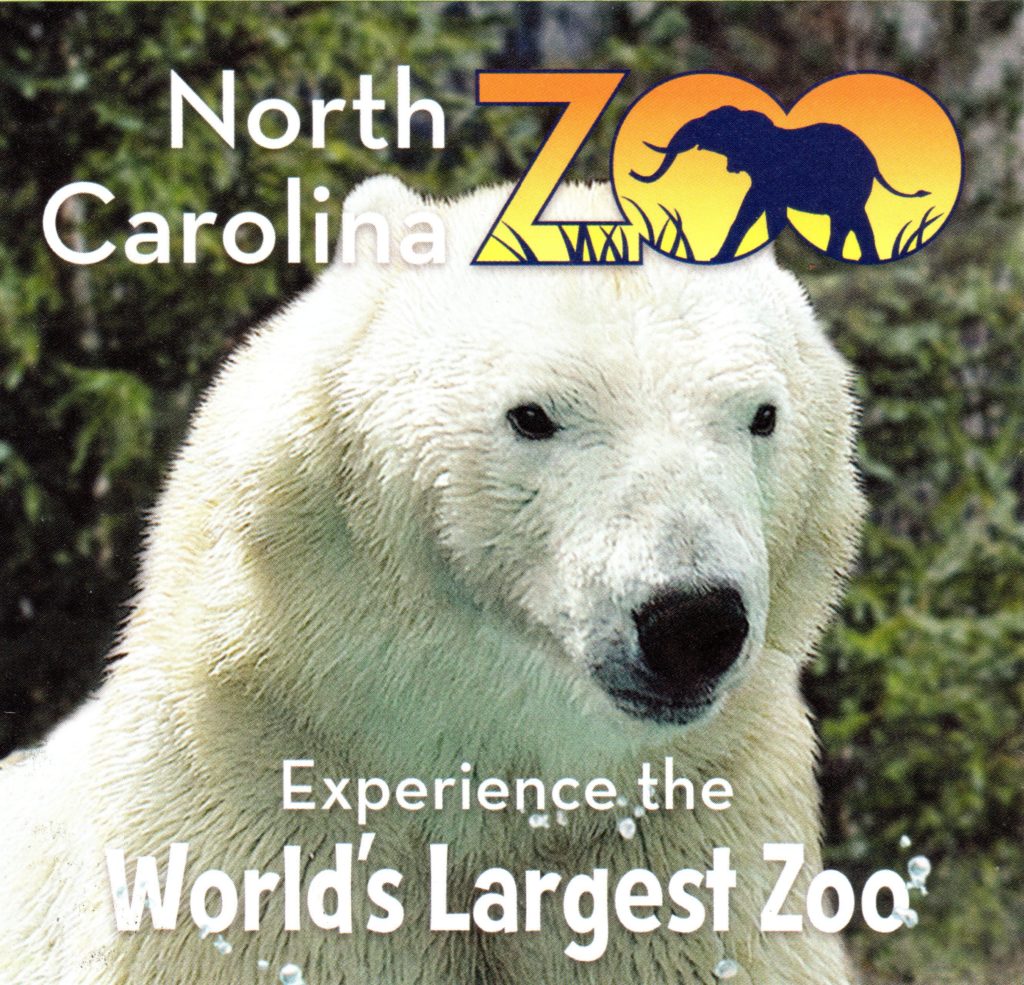 Today was a perfect day….balmy 88 degrees, sunny with a slight cool breeze.
A beautiful day to stroll through the zoo and visit all the sweet animals with my daughters.
We left our house at about 9:00 am, drove west for about an hour and arrived at the park where usually we are trampled greeted by millions of little elementary school children and their chaperones.
Today was a teacher workday for Daughter #1 and Daughter #2 is tracked out from year round school.
So, the park was pleasantly quiet with just some families with small children.
Each of my children has their favorite animal that they just have to visit so our first stop was the zebras and giraffes.
We also saw some ostriches.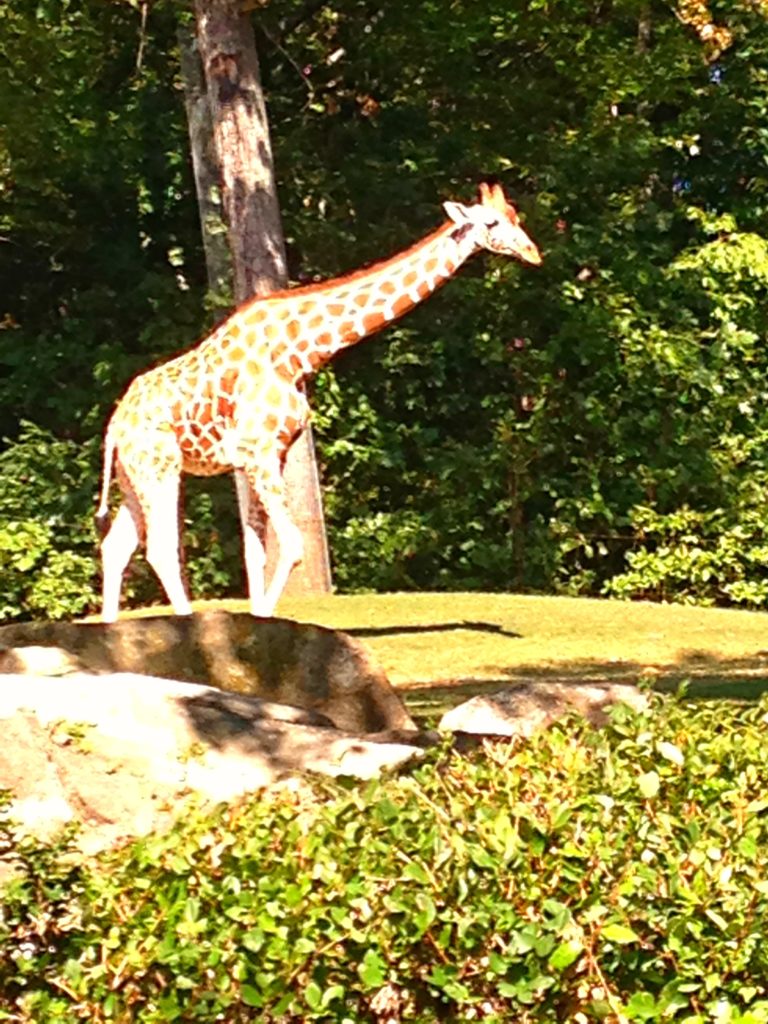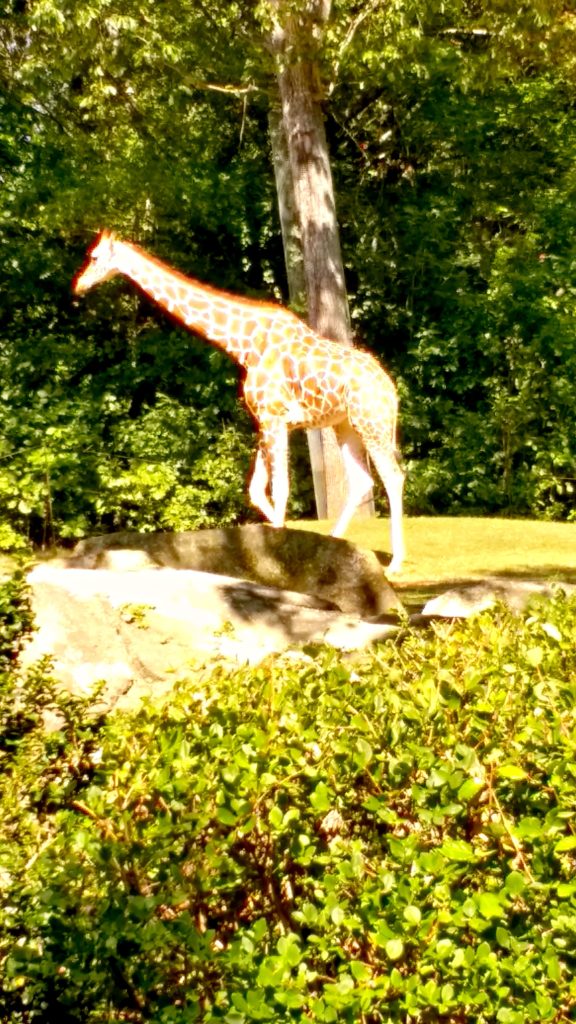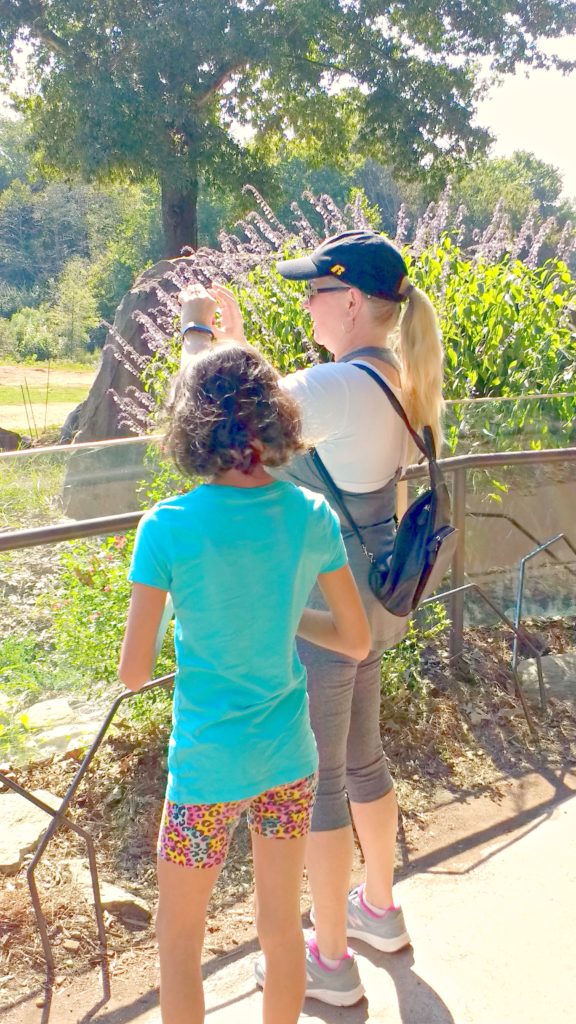 While we walked, the LOML and I were trying to count how many times we have visited this zoo. We've lived in NC for about 23 years and we have visited the zoo about twice a year. That's a whole lot of animal happiness at the zoo!!!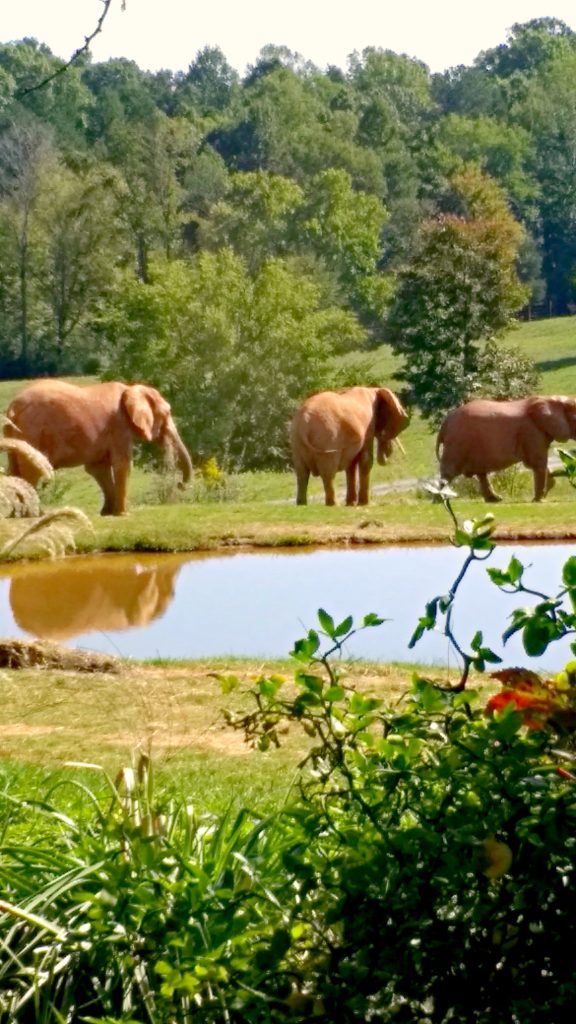 We visited the elephants. All through the park there are beautiful statues of the different animals.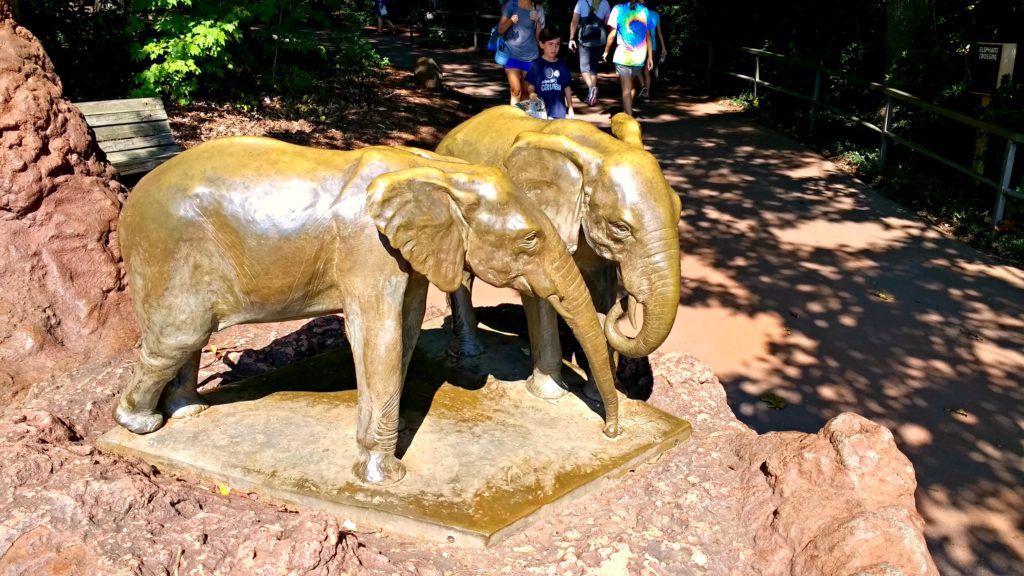 Of course, the LOML had to make the rhinoceros an Appalachian State University fan! Go Mountaineers!!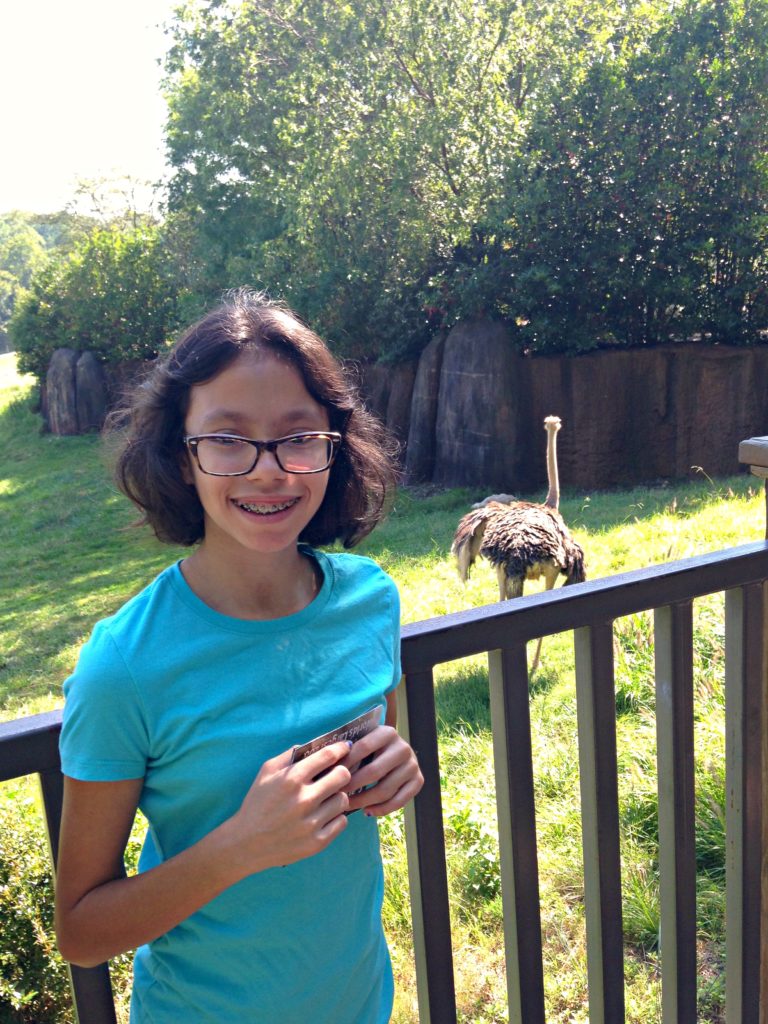 This beautiful giraffe statue was donated to the zoo in remembrance of a young boy who passed away when he was seven years old. What a beautiful tribute for such a wonderful life!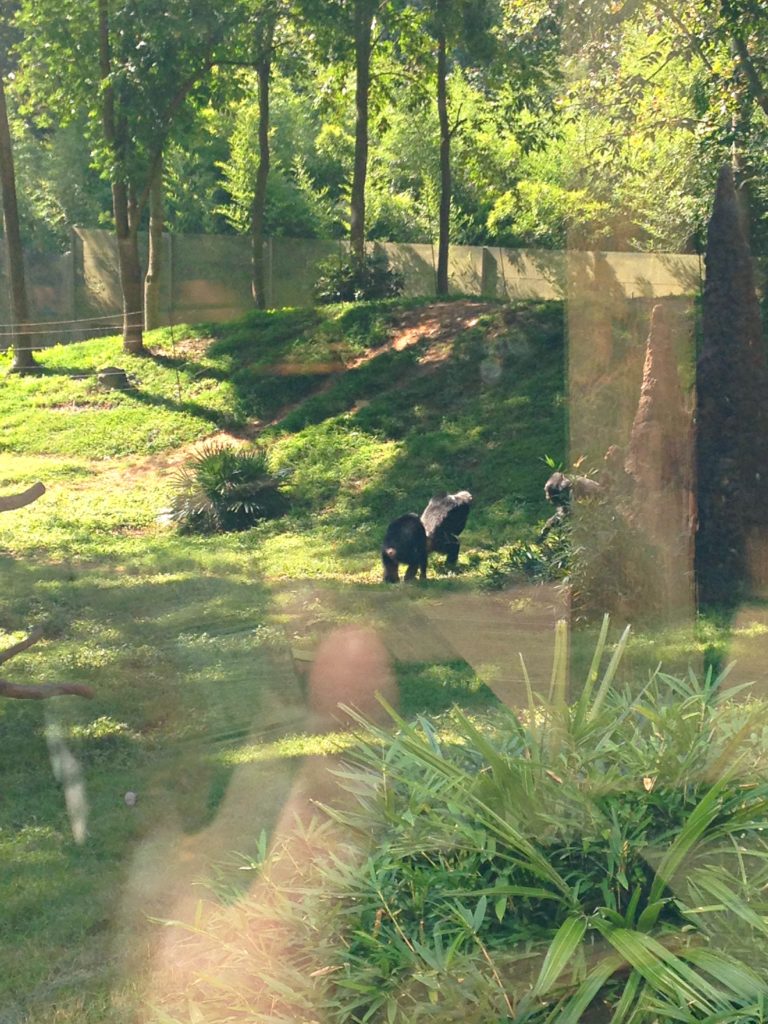 Forgive the glare on the window, but these are the chimpanzees. I didn't get a picture but the glass had a huge crack in it. I imagined an angry mother chimpanzee banging to scare all the crazy people away. Planet of the Apes came to mind!
From there, we went to the aviary which is full of beautiful, colorful birds. We each picked our favorite bird from the list of available birds and our job was to find the bird we picked.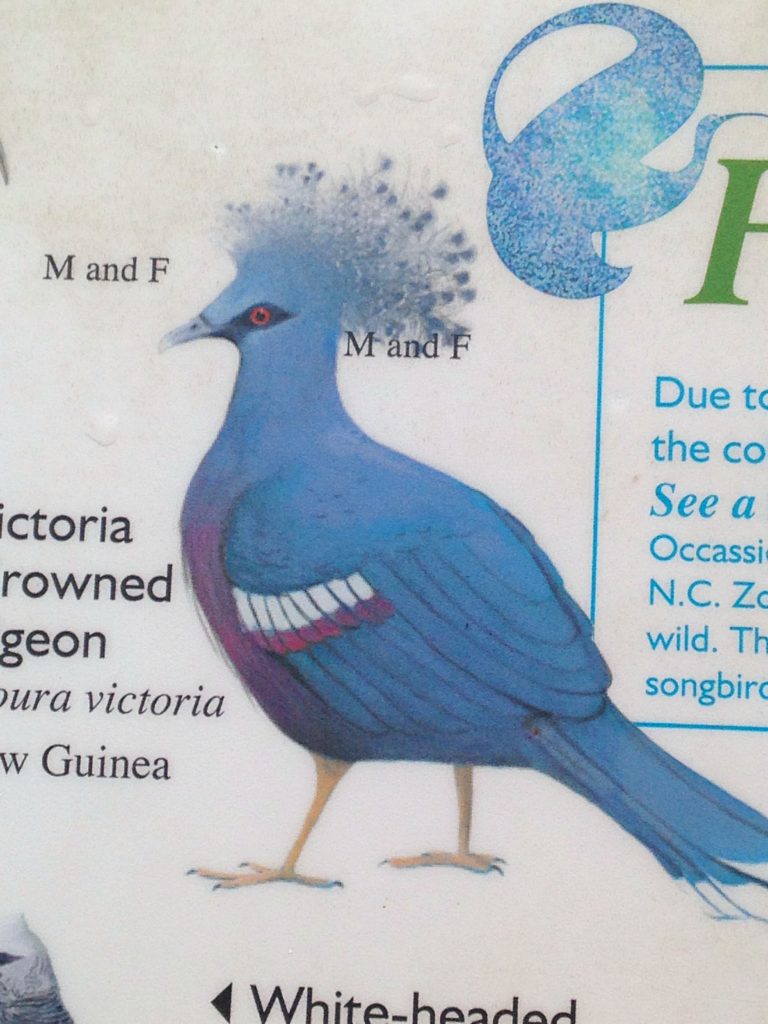 Daughter #2 picked the Victorian Crowned pigeon. Sadly, we didn't find these little guy.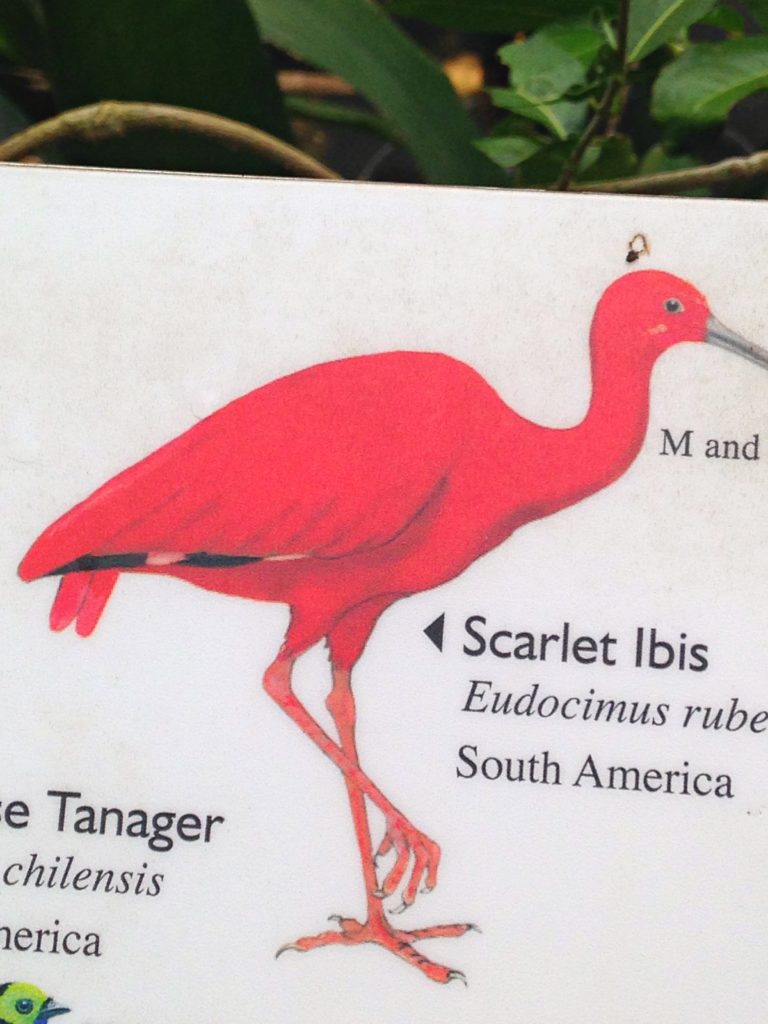 The LOML chose the Scarlet Ibis. He luckily found his.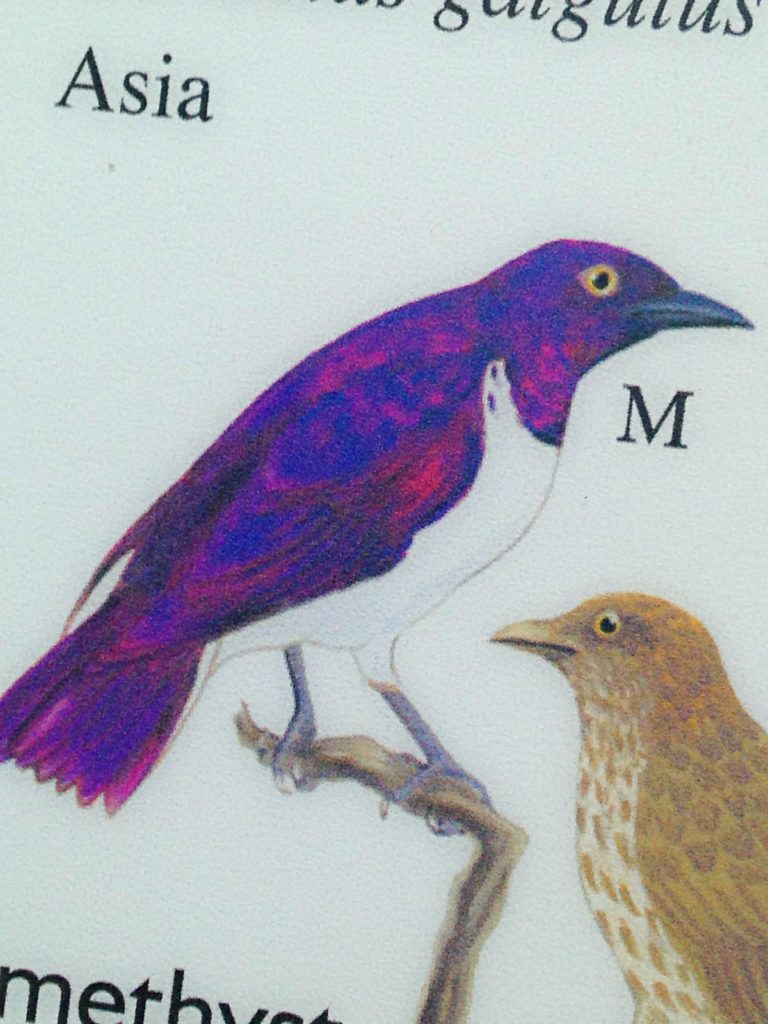 I chose the Amethyst Starling. We found some blue birds but they were so far away, I couldn't tell if it was this one. DARN!! The LOML won!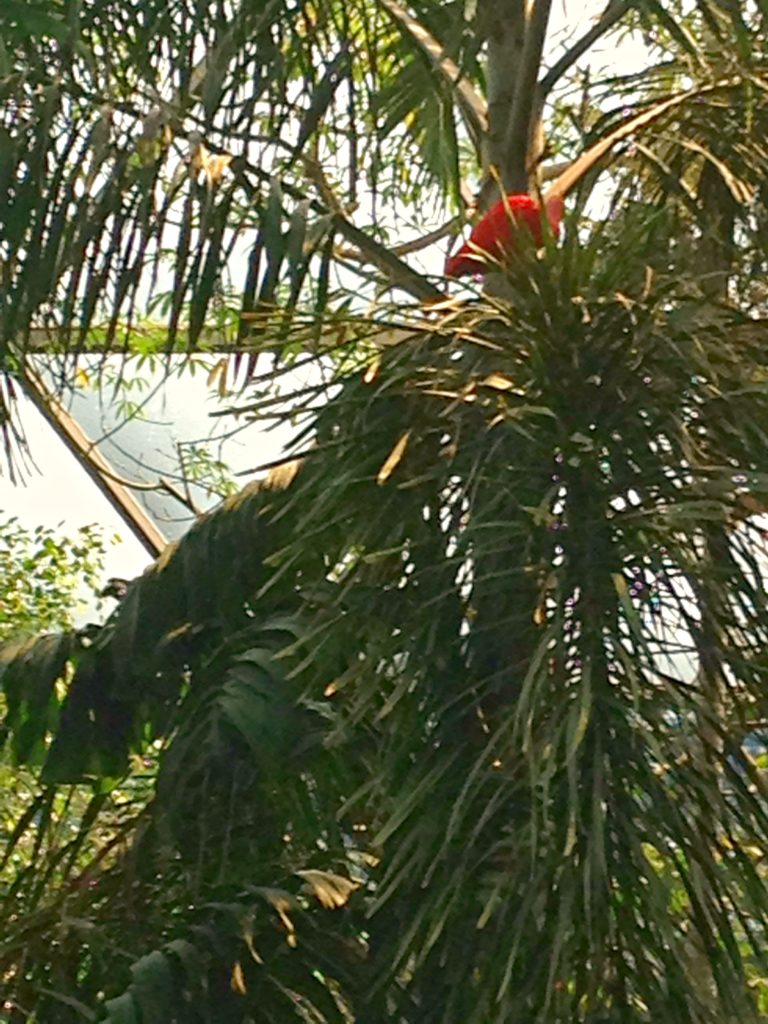 We think this was the LOML's bird. The WINNER!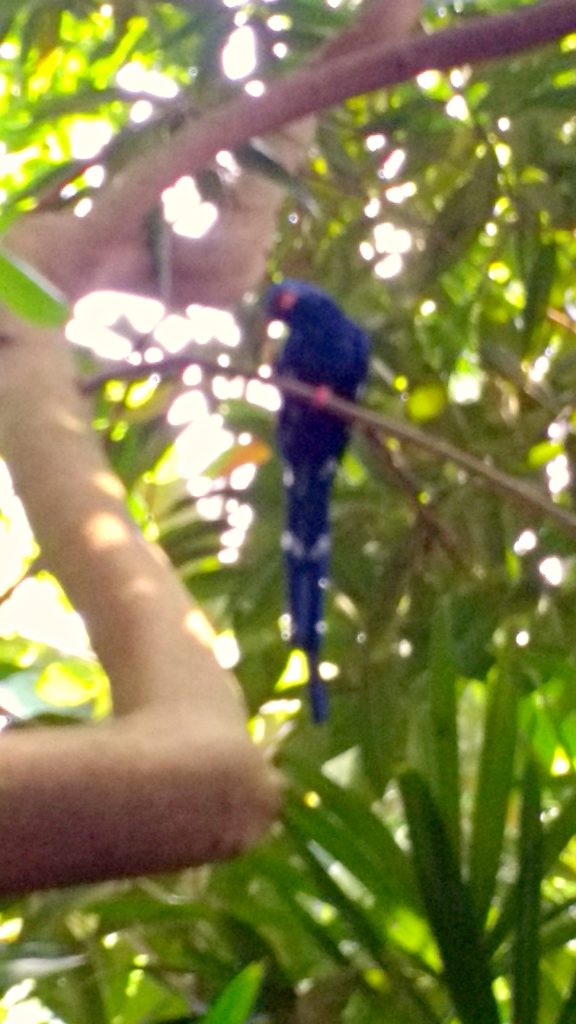 Forgive the quality of this cell phone picture but I absolutely love the blue!!
And, speaking of birds……….
FLAMINGOS!!! They were such an interesting striped coral color. Beautiful!!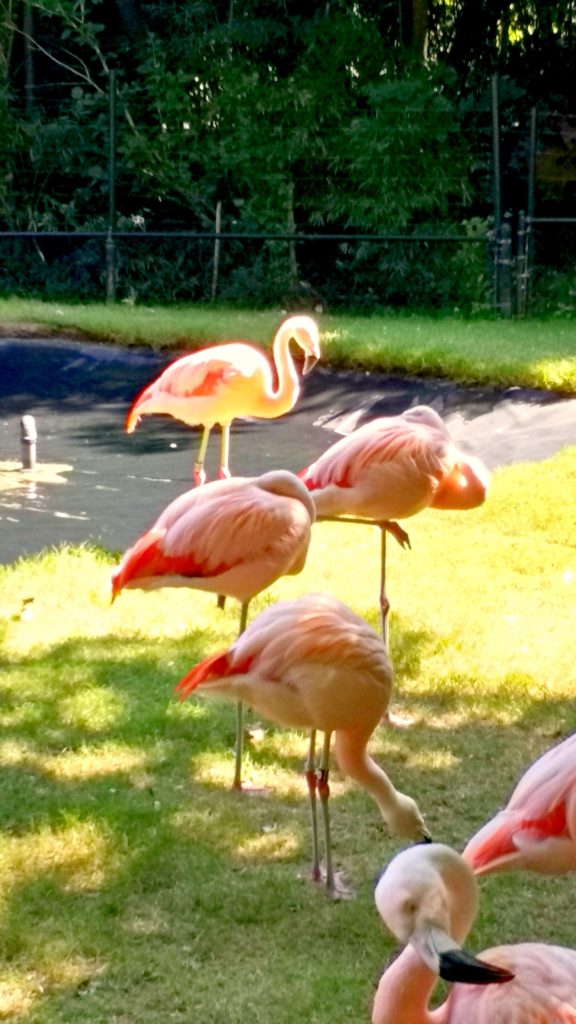 We stopped for lunch where the two dieters (the LOML and myself) had the chicken tenders. I cheated with some french fries and the LOML cheated with some chips. Daughter #2 had a hot dog with french fries. Her face is the face of someone with new braces trying to chew without hurting herself. She may have picked up one of her rubber bands from the floor before putting in back in her mouth. YUCK!! The food was really good though!
You are about to find out something about me that will make you question my sanity but here goes………I am deathly afraid of bees, wasps, anything that buzzes. Remember this important piece of trivia while you look at the next few pictures.
I know this statue is not real but…….(heart beginning to beat a little faster!)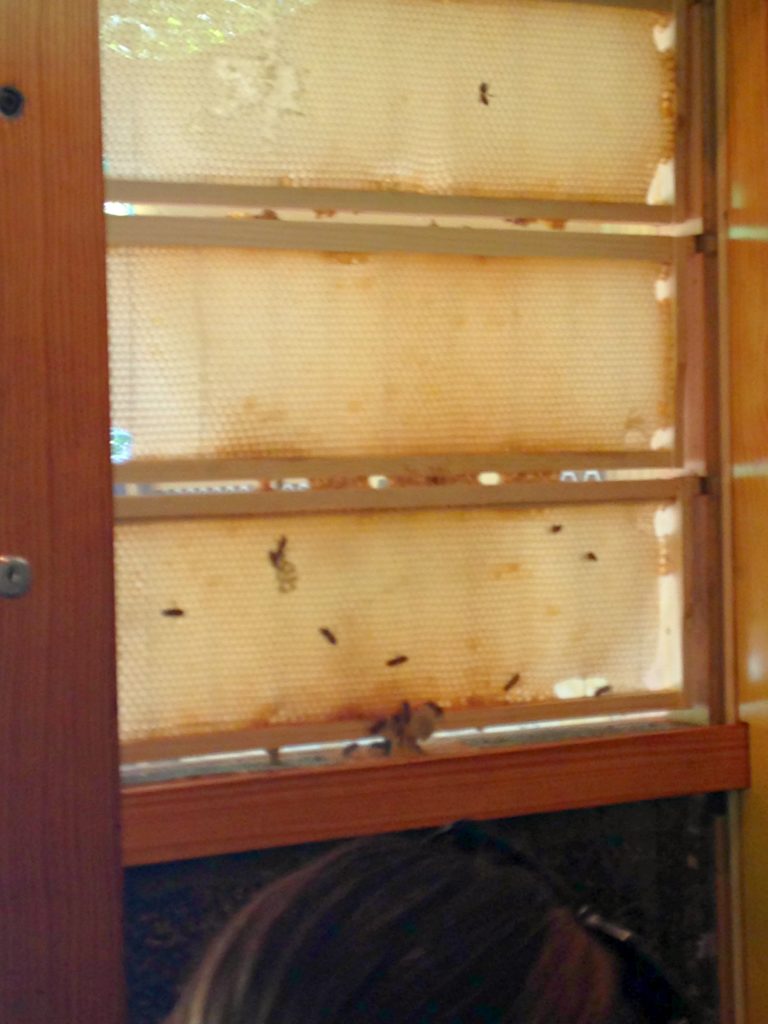 I'm starting to hear buzzing in my ears. BUZZ BUZZ!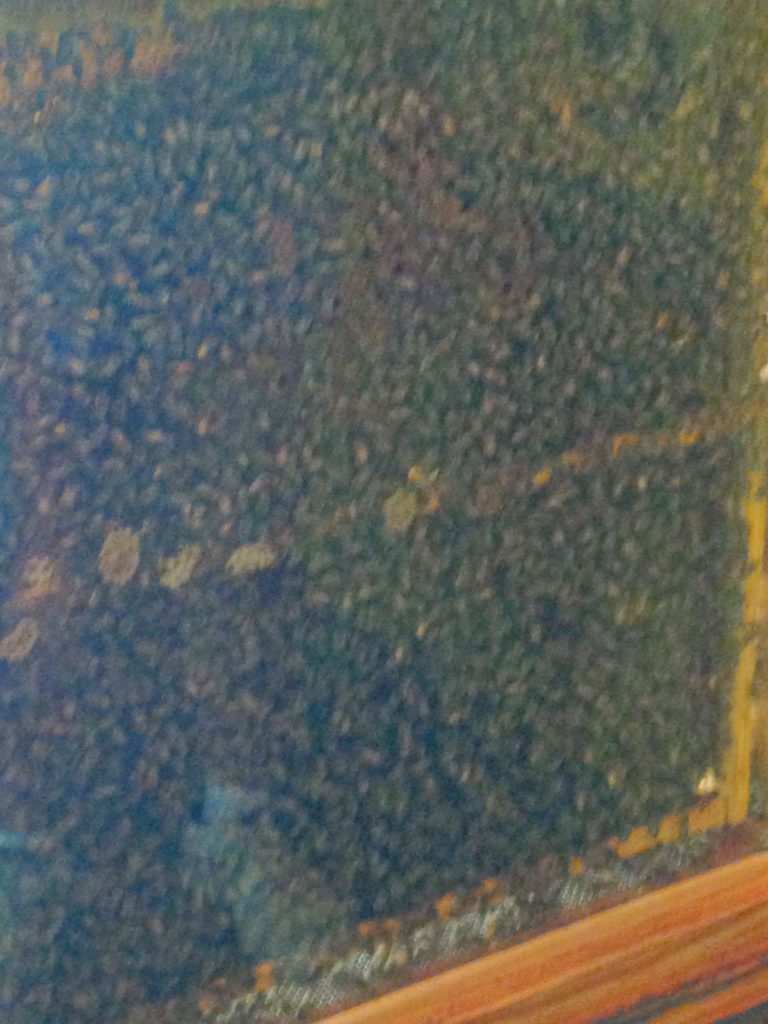 Okay, I'm out of here!!!!!!!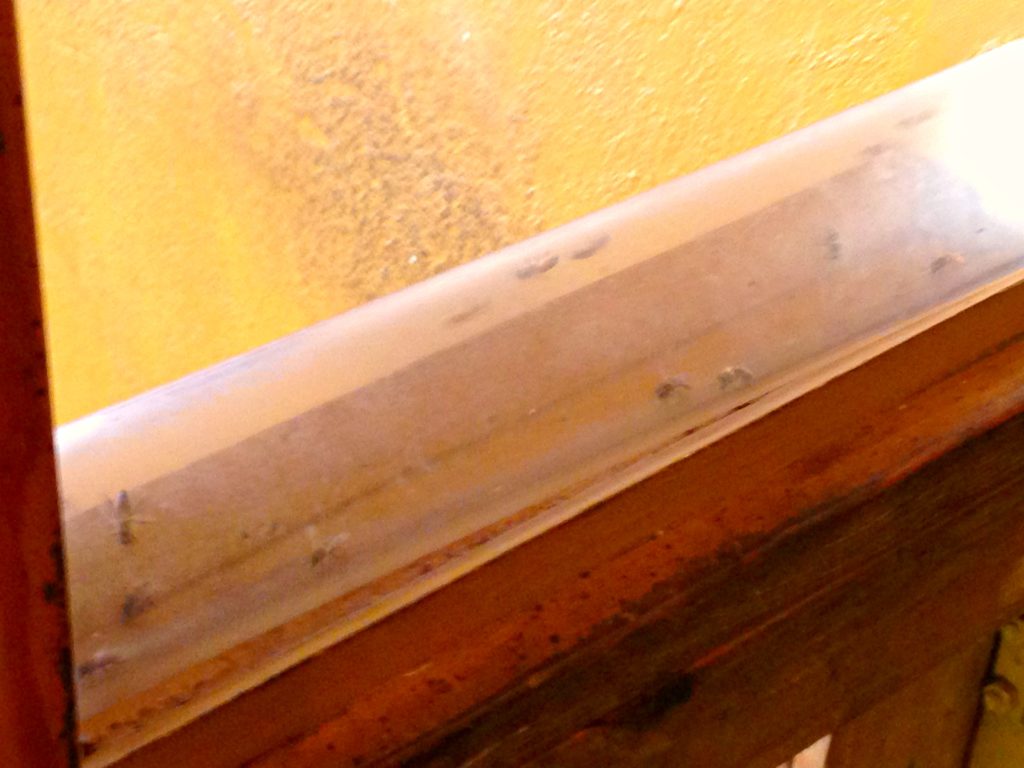 Son #2's favorite animal at the zoo is the ocelot. It's a running joke that every time he goes to the zoo, the ocelot is either hiding or the exhibit is closed. This time the ocelot was basically performing for us and Son #2 wasn't there to see it. We texted him a video of the little cutie.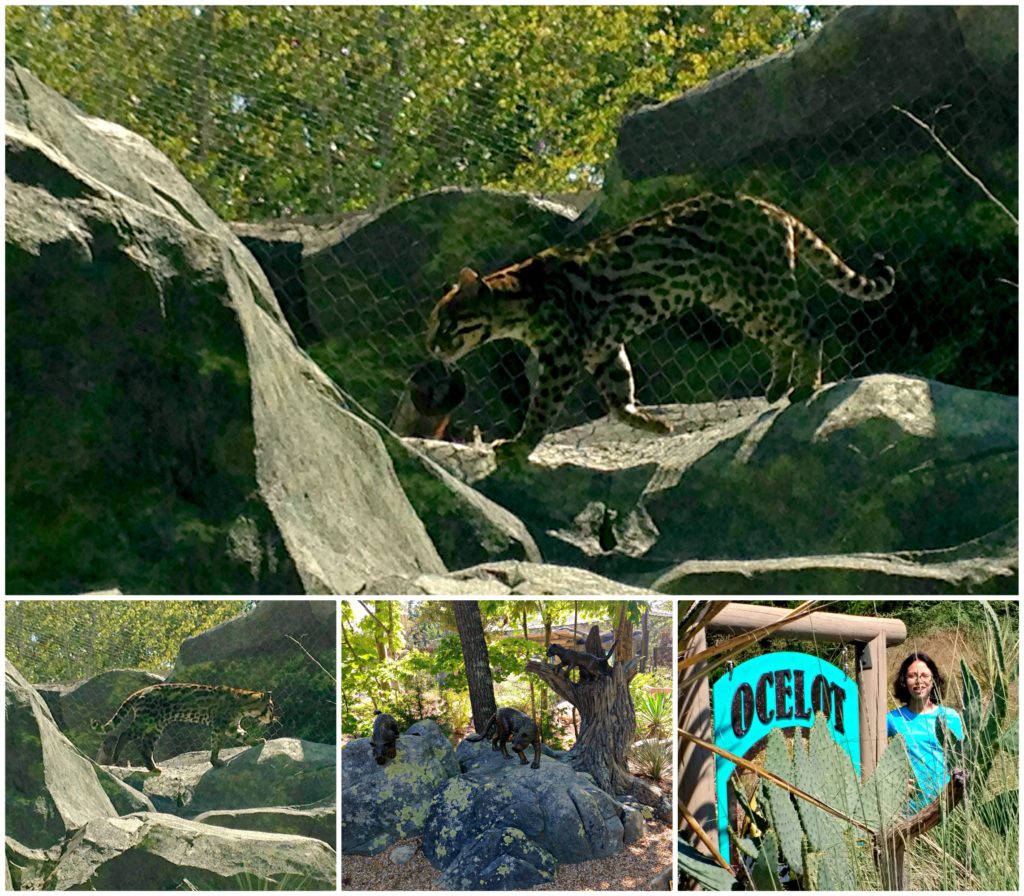 Daughter #2 got to touch an ocelot skin. This park has such wonderful volunteers teaching all about the animals. They're amazing!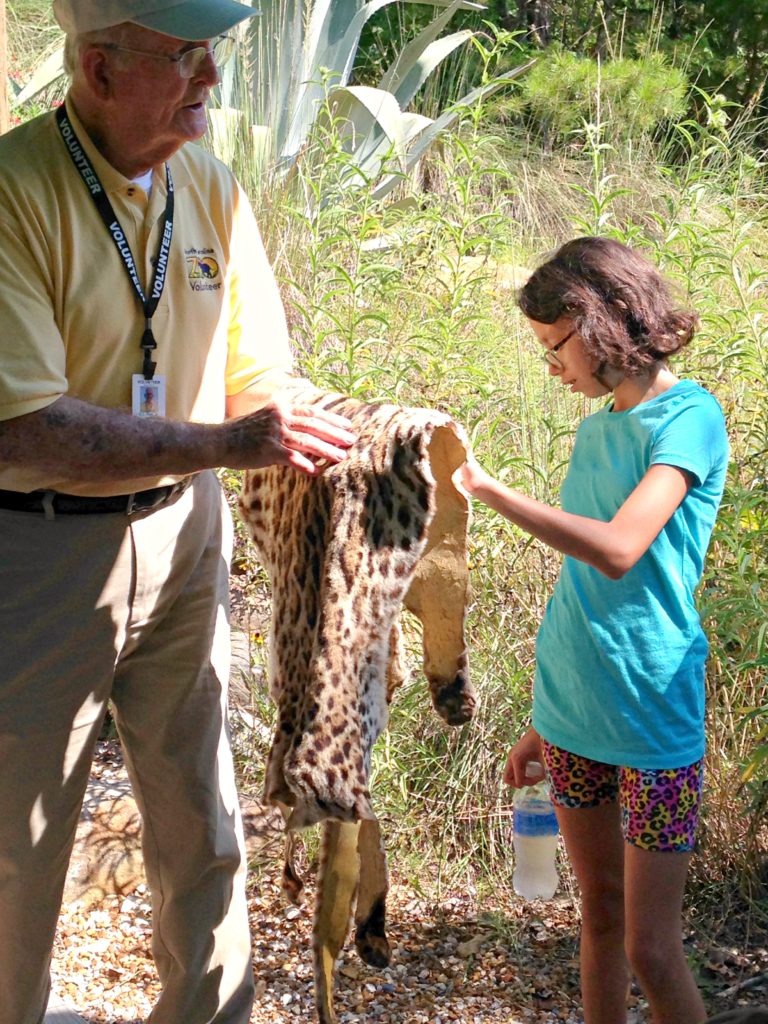 Our high school mascot is a cougar so this kitty cat was special to us! Intimidating but special.

As we walked through all the exhibits, I couldn't help but enjoy the beautiful flowers everywhere! I have no idea what any of them are called (me with my black thumb) but I can really enjoy the beauty.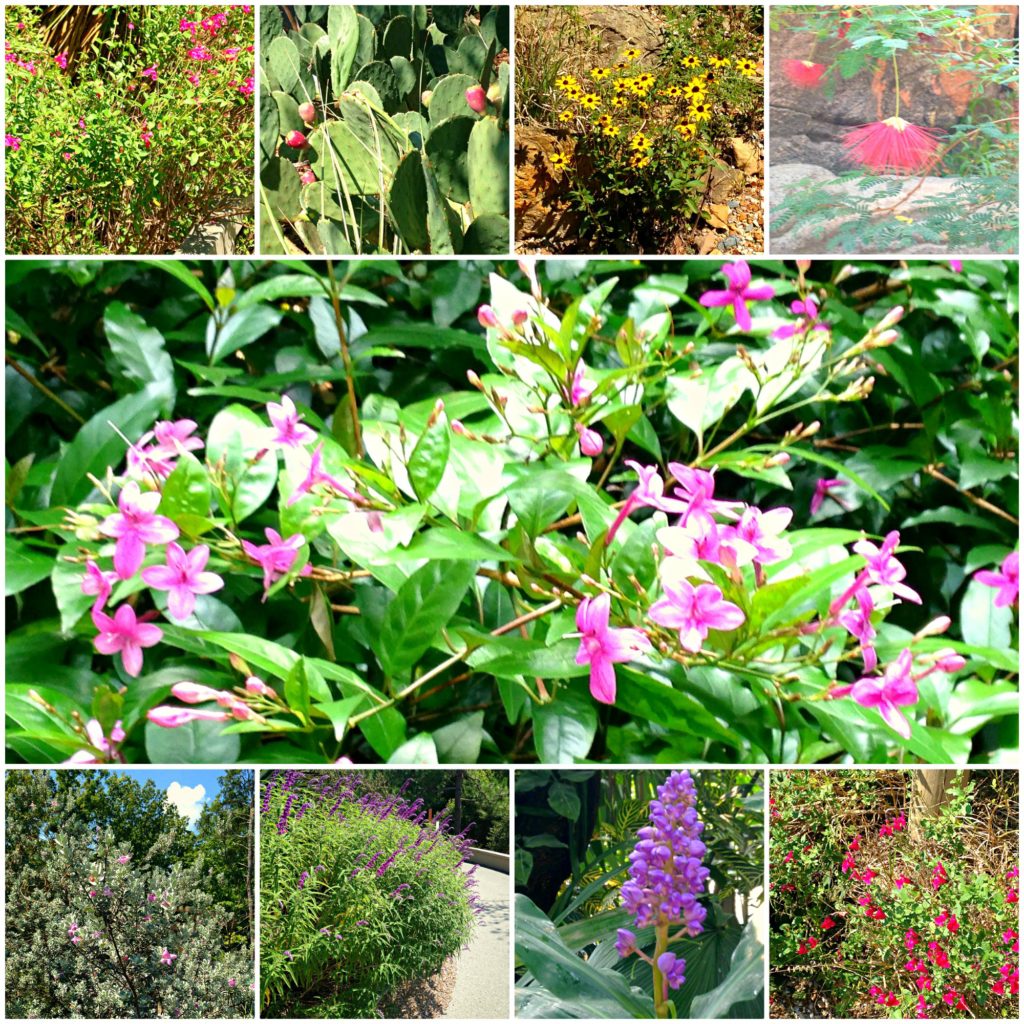 You can guess what we were going into this building to see. EECK!! All things Sahara Desert, snakes, etc.
We are big Batman fans in our house so we had to visit "The Bat Cave"! The Vampire Bats were not easily seen but as we were walking away, Daughter #2 saw something run across at the base of the glass case. We finally saw a couple of bats running around. Spooky!
Yes this is blood!!!! Yummy…dinner!
My beautiful animal lovin' daughter. Her animal print shorts blended right in with all the animal spots.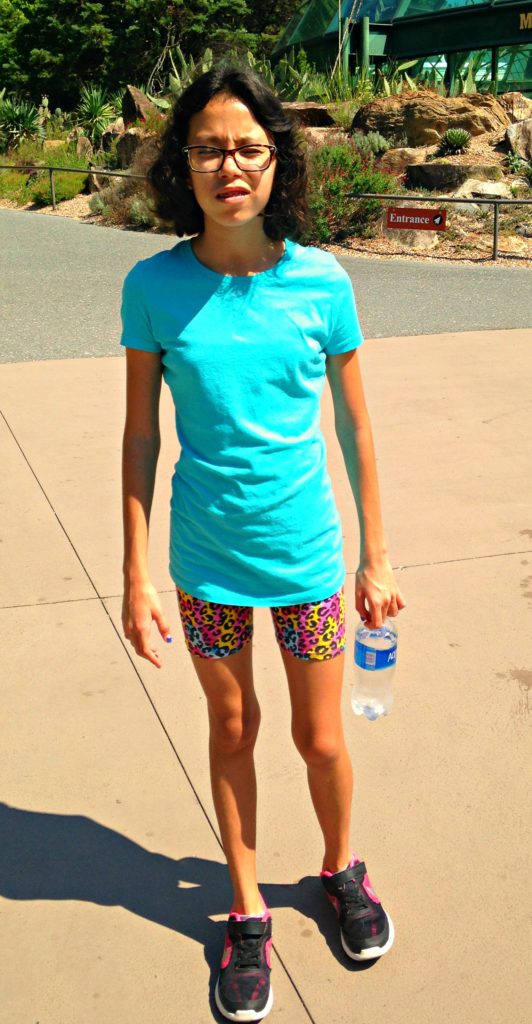 The NC Zoo does such a great job of telling the story of nature and the impact we have on it. We read some great stories of Native Americans and how they loved nature and enmeshed nature into their lives. Is anyone else hearing the Pocahontas song "Colors of the Wind"?
Have you ever heard the wolf cry to the blue corn moon
Or asked the grinning bobcat why he grinned
Can you sing with all the voices of the mountain
Can you paint with all the colors of the wind
Can you paint with all the colors of the wind1
Read more: Disney – Colors Of The Wind Lyrics | MetroLyrics
Do y'all see the bird?? Very cool.
The grizzly bear had the best seat in the house. It was hot and he was not having it without that waterfall.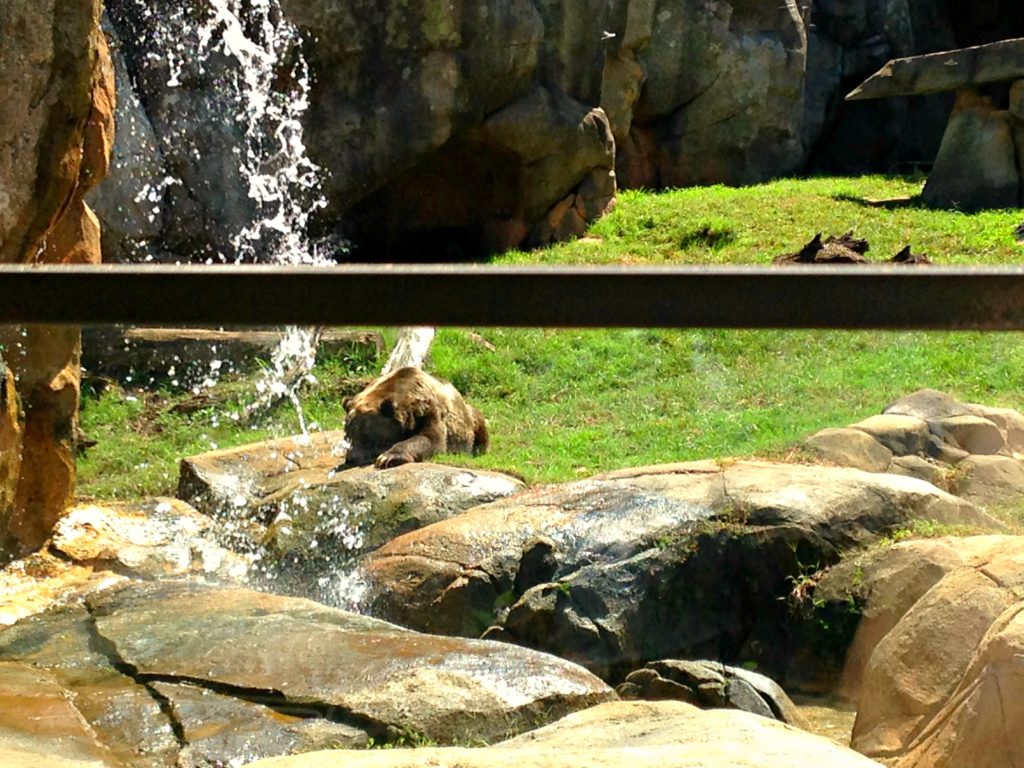 Next, we visited the bison.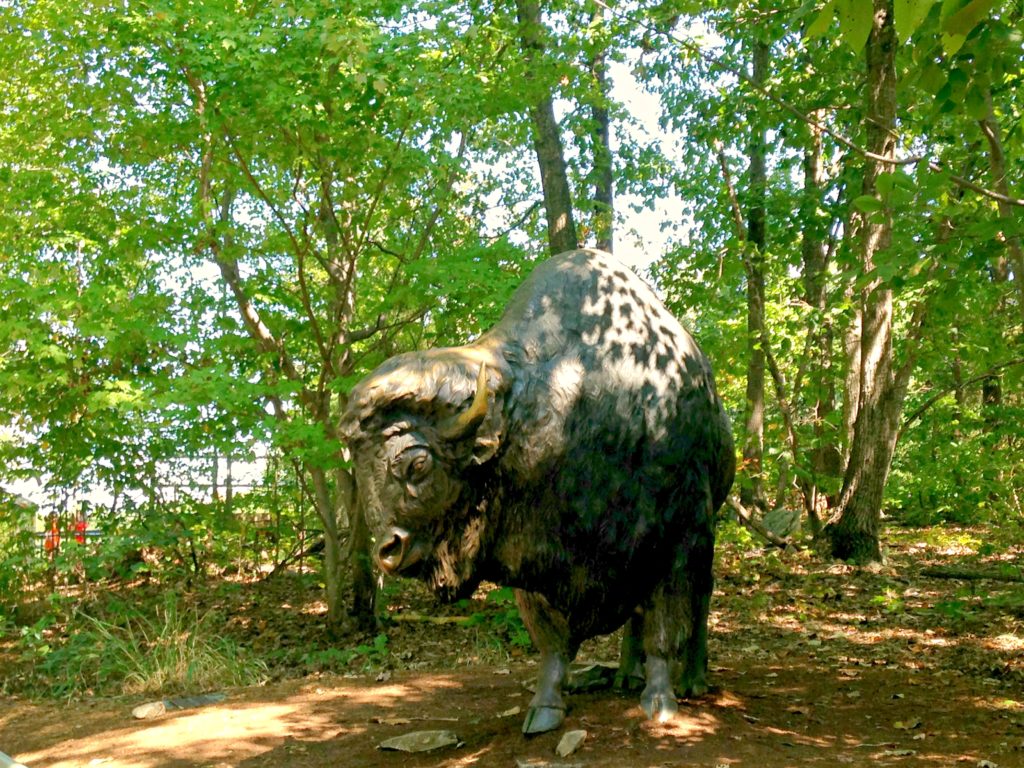 Another App State fan!!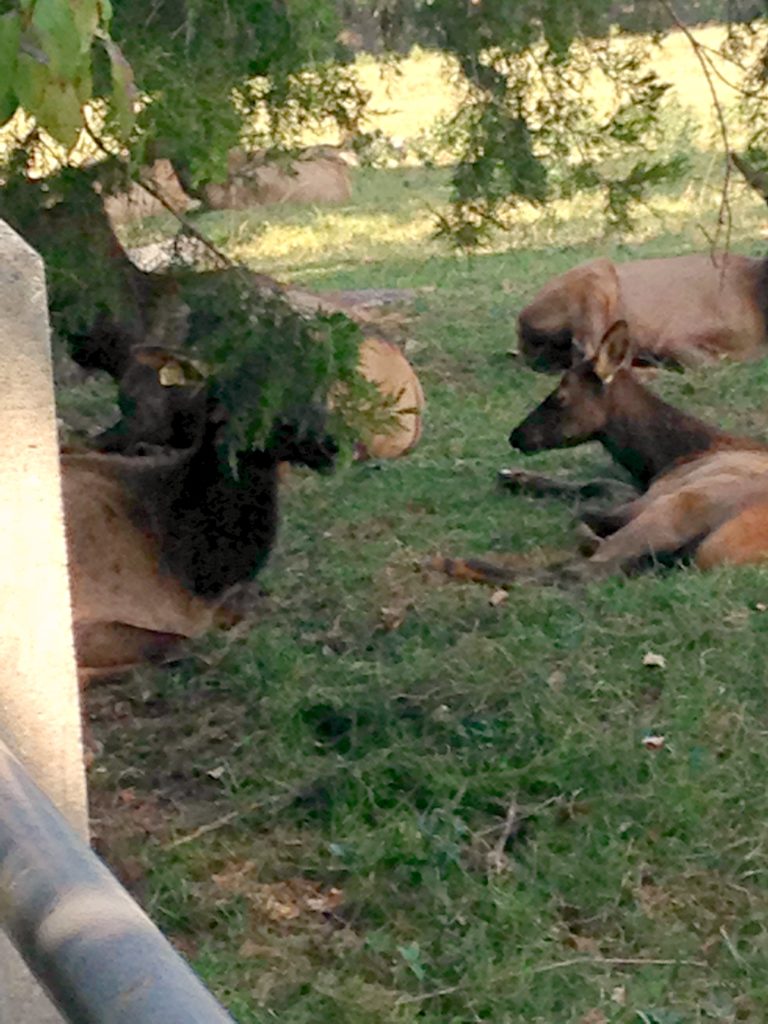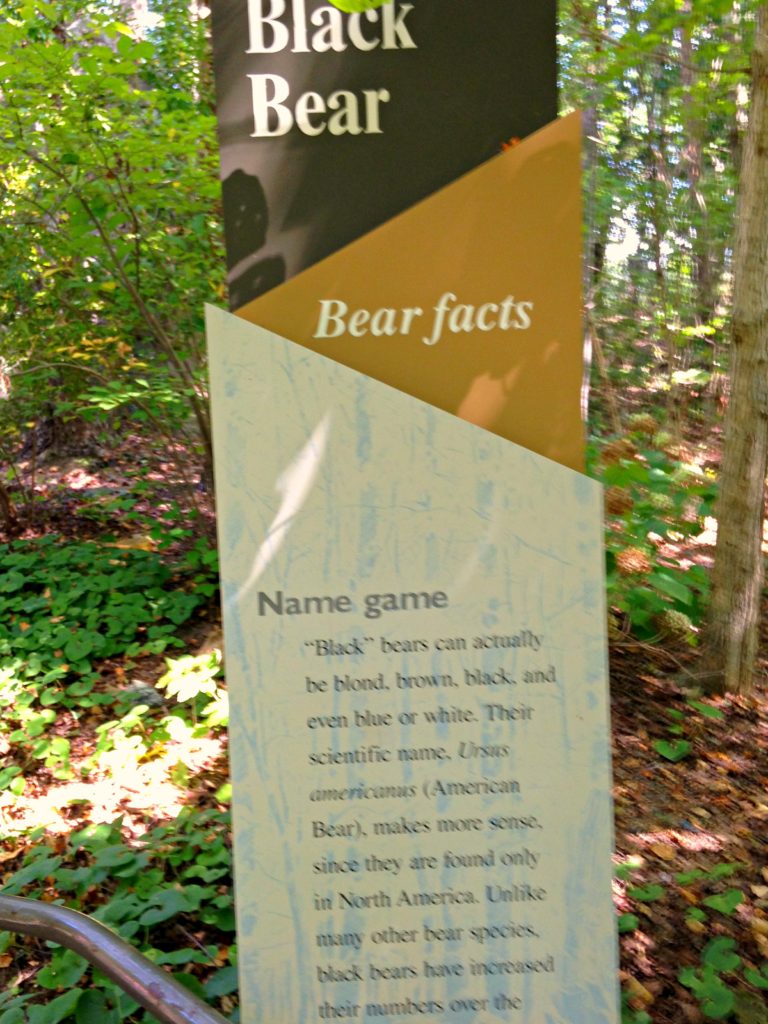 The black bears were so sweet. They were just lounging around licking each other. Get a room!!
The next picture is one of my favorite pictures. The male elk is lounging right next to his sign that says he can be aggressive. He doesn't look aggressive, does he?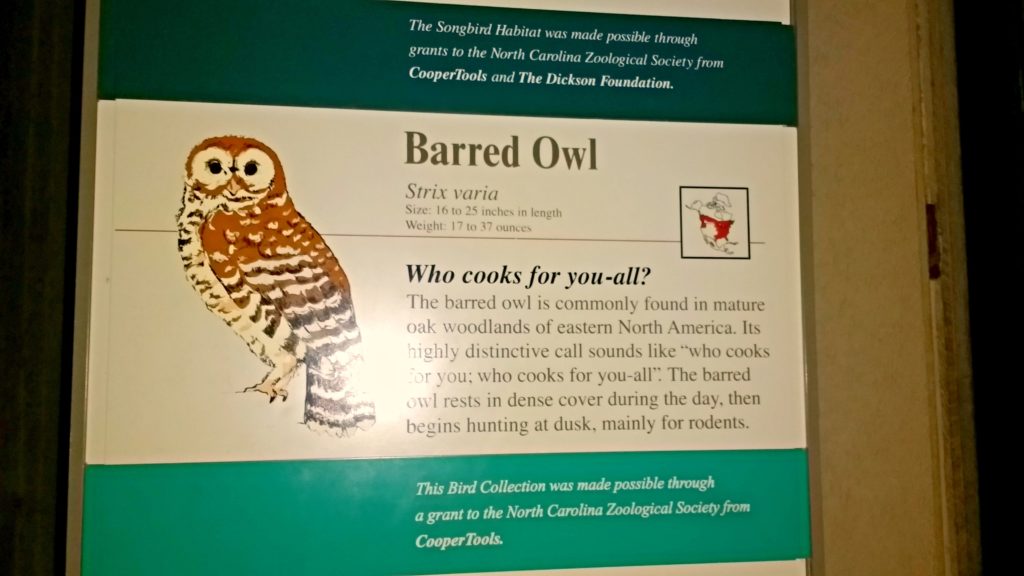 The NC Zoo is a great family place. There's something for everyone ~ young and old. There's a brand new high rope course through the trees where we saw people way up high taking pictures of the animals. Great idea! They also have playgrounds and water parks for the kids.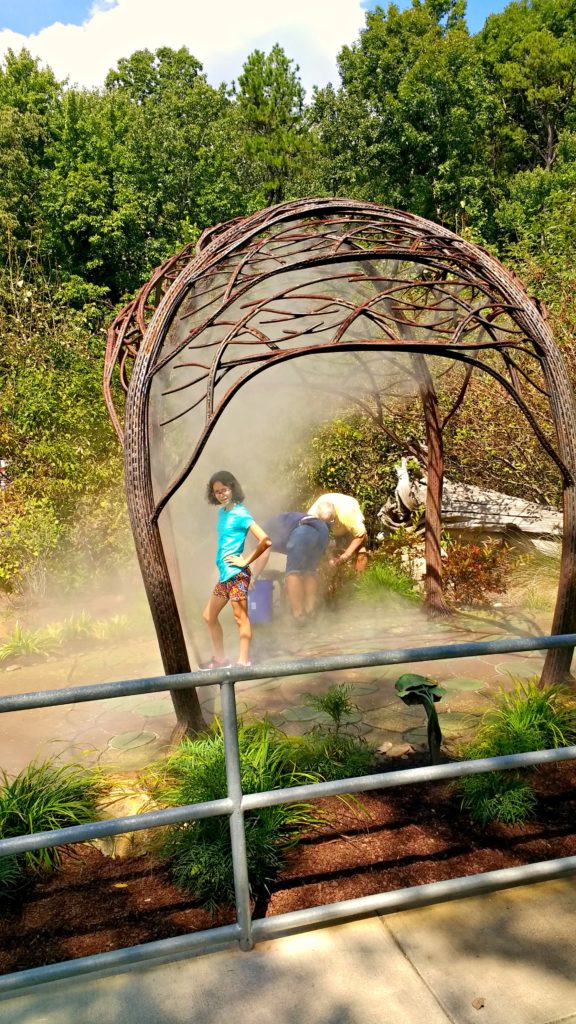 I was tempted to jump into this water mist thingy but my make-up would have been dripping off my chin. Not a pretty picture!
One of the Arctic foxes was napping while the other was just being camera shy. Their white coats were just beautiful!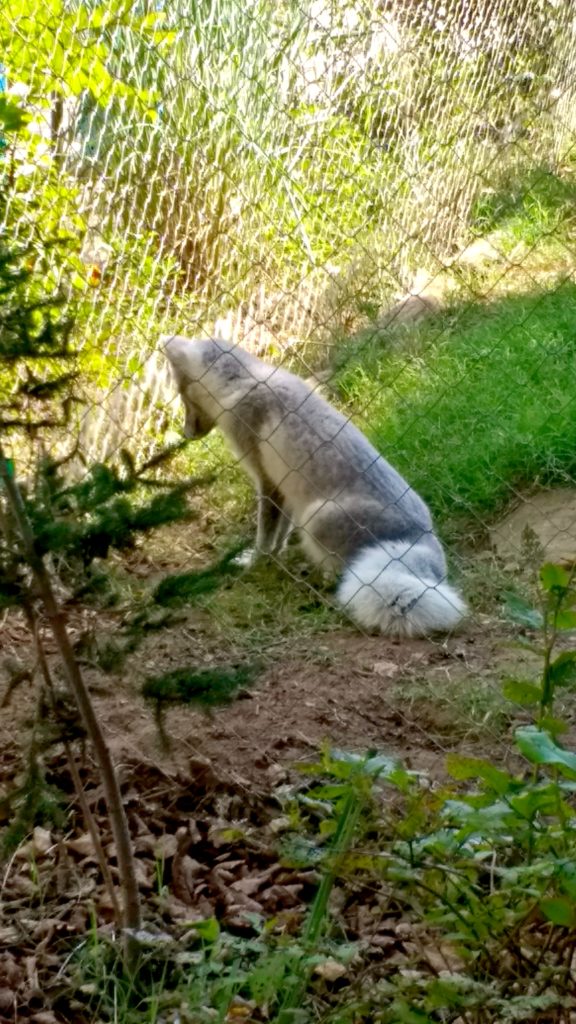 We went to visit the polar bears but they were nowhere to be found. Too hot I guess. Usually they're swimming and playing with big beach balls. But sadly, not today. Daughter #2 climbed into an igloo instead.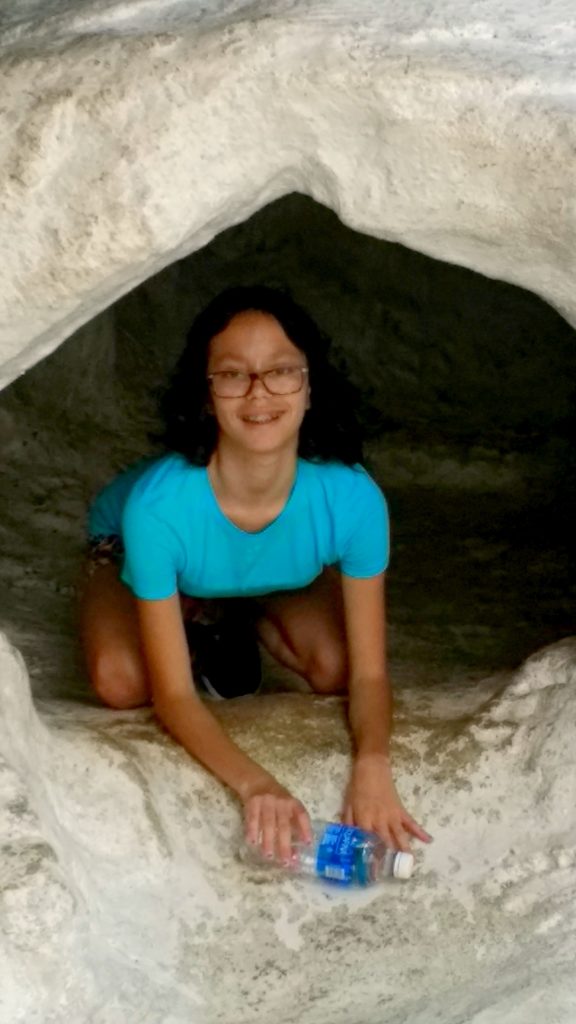 One of my favorite exhibits is the puffins. There's a whole bunch of them swimming and flying and flapping the wings, climbing up onto the rocks and diving into the water. They are so cute!
Last but not least, we visited the alligators and turtles.
We are so blessed to be able to live near such a wonderful zoo. My kids have always loved coming here and always learn something new.
Got a bunch of projects in the works around here. Can't wait to share them with you.
If you're visiting for the first time, thank you for coming. I hope you get inspired!!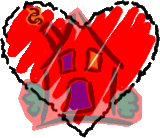 Love y'all,
Linda