We recently had company stay at our home. Do you know what that means for me?
In my crazy world, I put the pressure of completing any projects that are unfinished around the house before they come. Why do I do that? I know it's crazy but the positive is, the projects get done!! Company is great incentive!
We've been working on our master bedroom closet for the past zillion years few months. We still have a tunnel carved out in our bedroom for a quick exit of all the junk that should be in the closet. Numerous stubbed toes in the middle of the night on the way to the bathroom.
You can read about the first two sections of our new closet if you'd like.
CLOSET RENOVATION ~ Pipe Shelving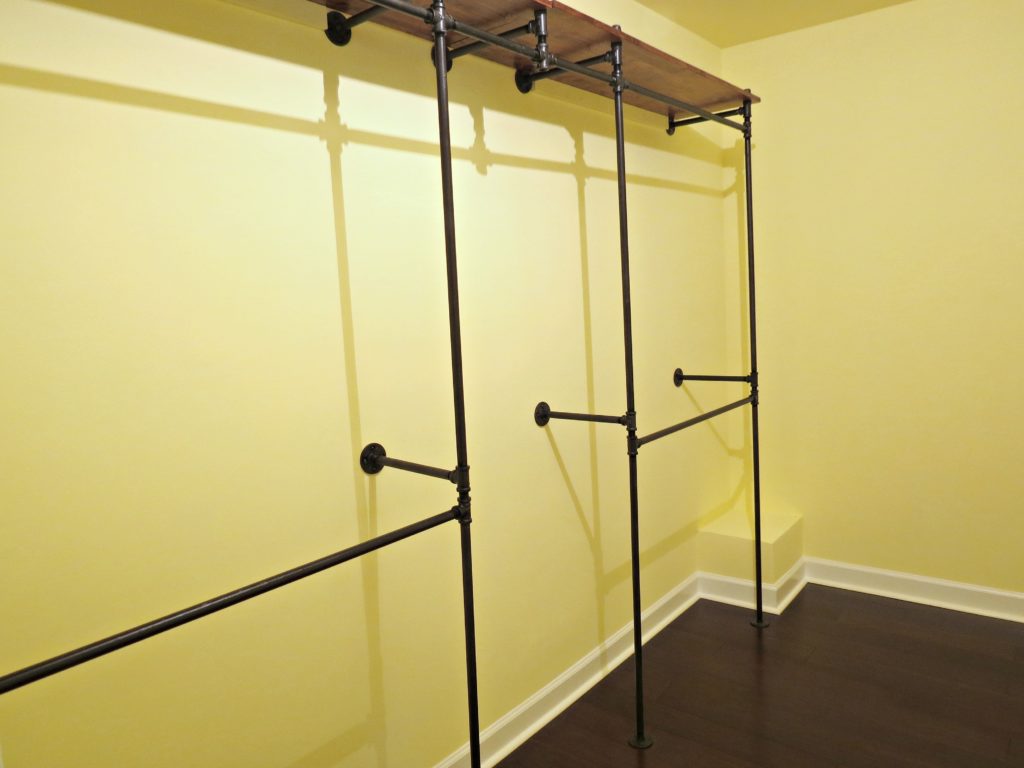 CLOSET RENOVATION ~ Take Two ~ Storage bins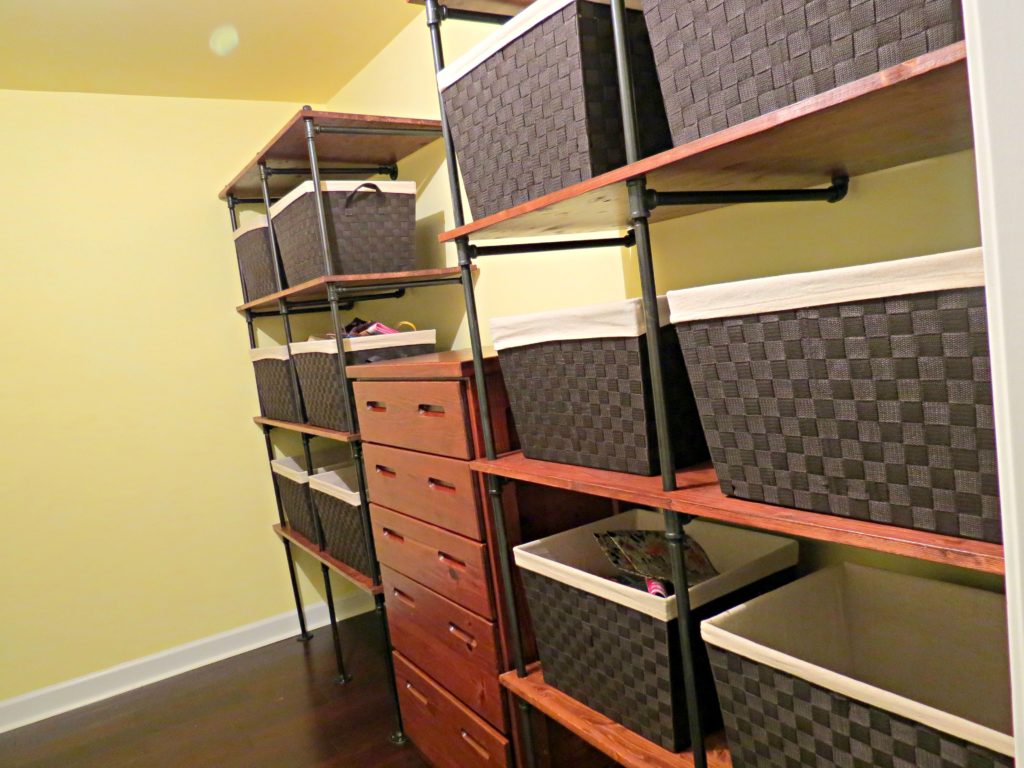 Here's the before of our closet. Please don't judge!!!!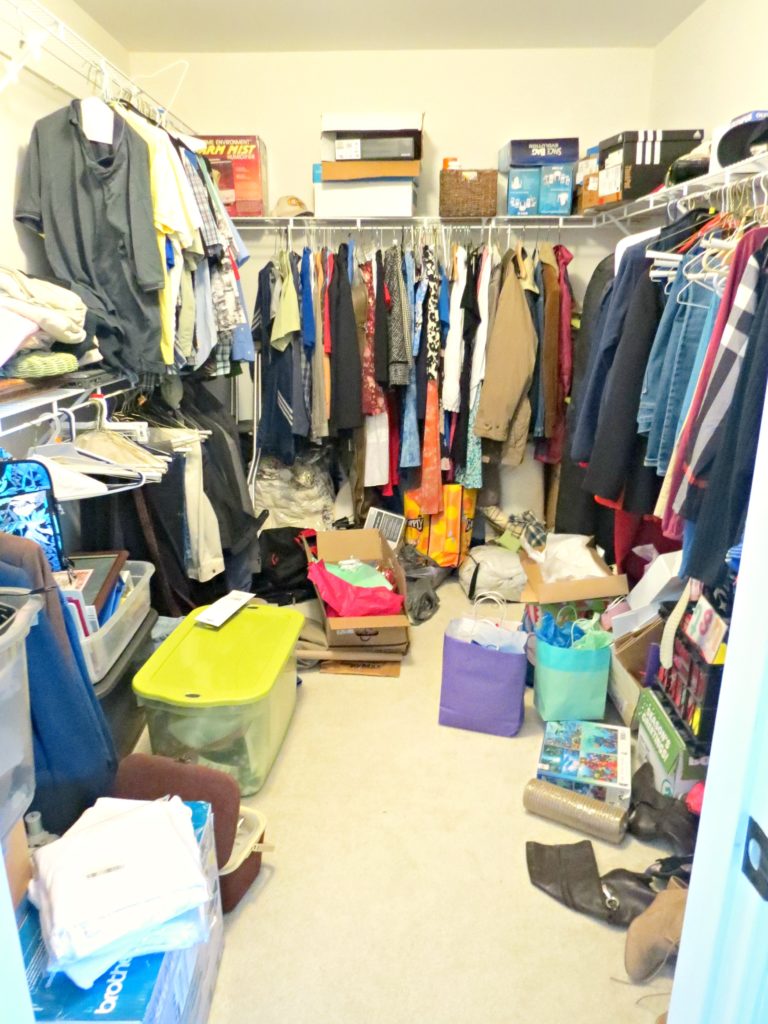 It was so disorganized and a catch-all for EVERYTHING!!
The third project (Take Three) of the closet is this back wall.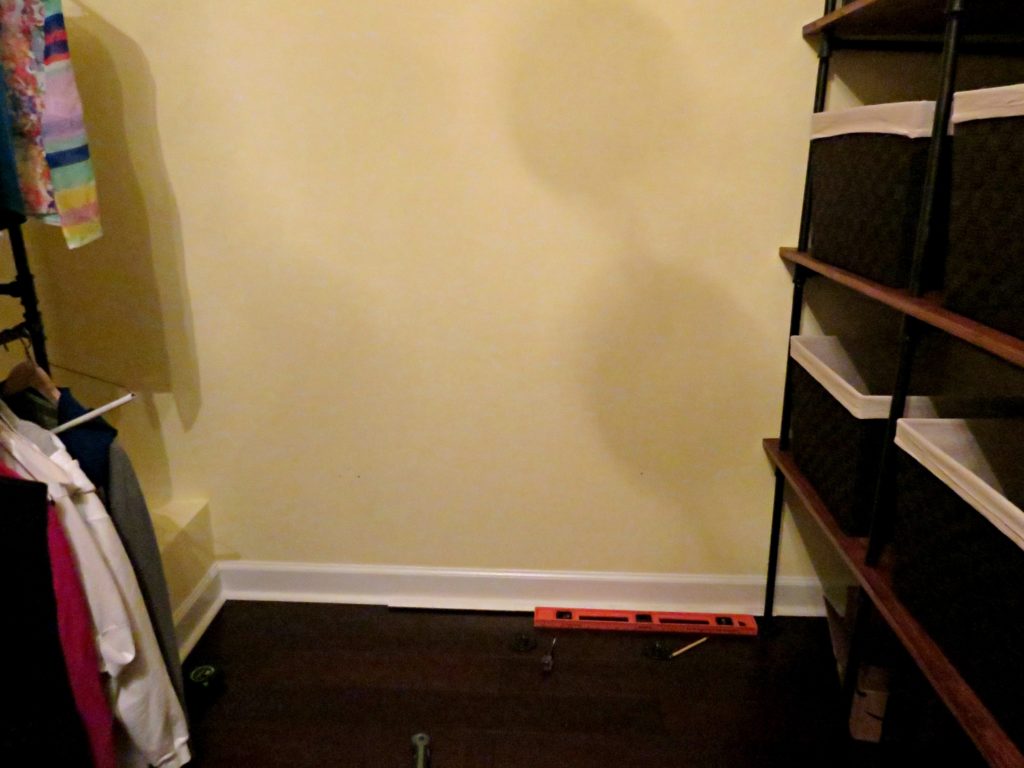 This wall is going to hold all my shoes. I love shoes! I love boots, I love sandals, I love all of them in all different pretty colors! So now they'll be on display in a beautiful way!
Here's our inspiration picture: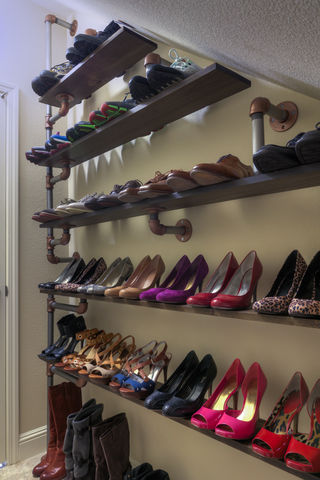 It looks so clean and organized, doesn't it? Like a shop window!!! I love it!
Also, there is a box in the back corner that holds the dryer vent that leads outside. My plan is to build an area for my tall rolls of wrapping paper and fabric.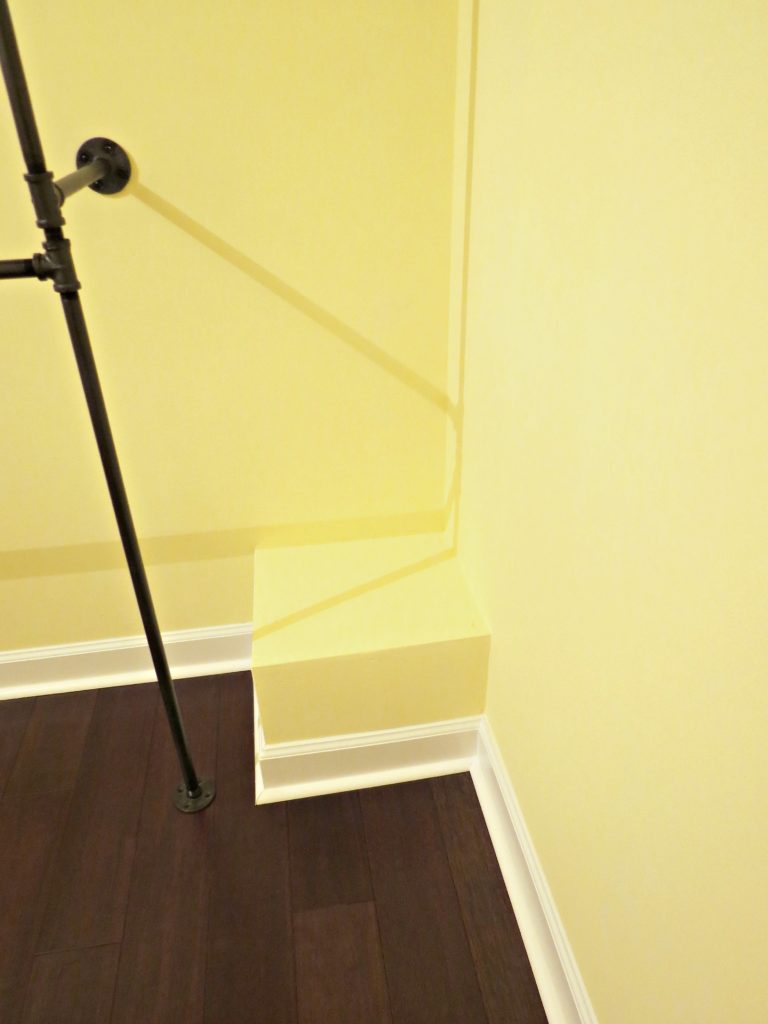 As with the other two sections of closet, we drew out a plan, went to Lowes Home Improvement and bought all the pieces we needed, painted them all with two coats of Rustoleum Hammered Paint & Primer in One black spray paint and three coats of polyurethane.
For the shoe shelving, I knew the bottom shelf had to be 18″ high so I can store my tall boots underneath.
After we measured 18″ up from the floor, we found the studs that were 16″ apart, we placed two flanges for each shelf so that the screws would go into the studs.
We placed a flange, traced the circles with a pencil, and inserted wall anchors where the screws would miss the stud.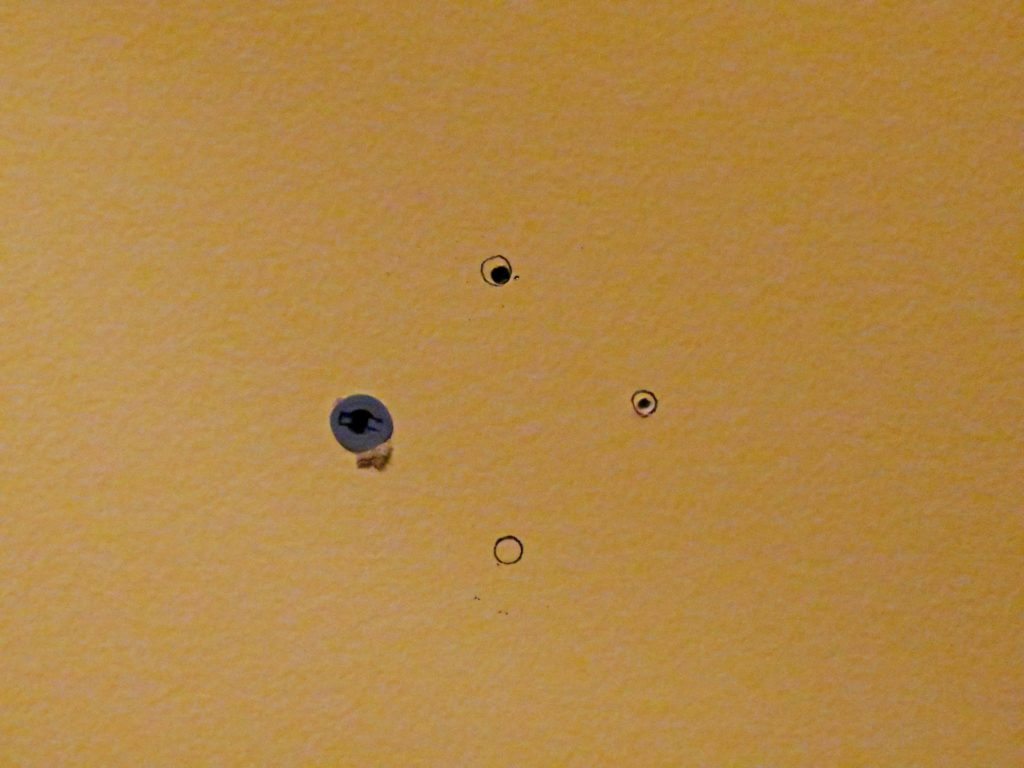 We used 1 1/2″ screws with the anchors and we used 2″ wood screws into the studs to hold the flanges.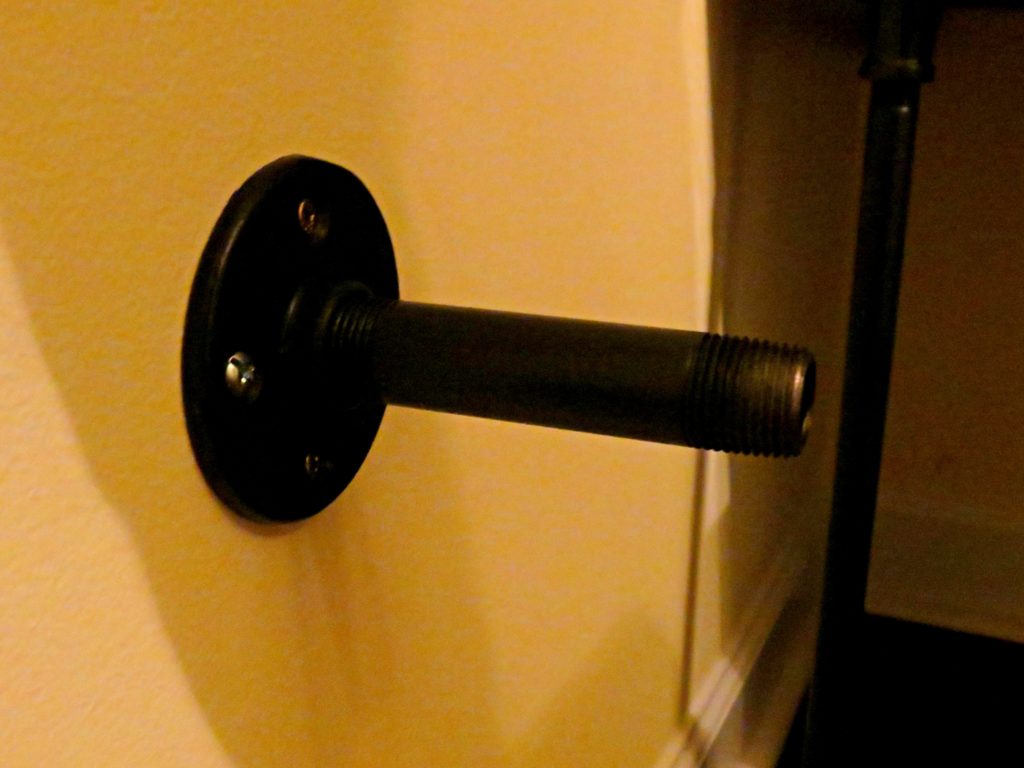 We attached a 3″ nipple,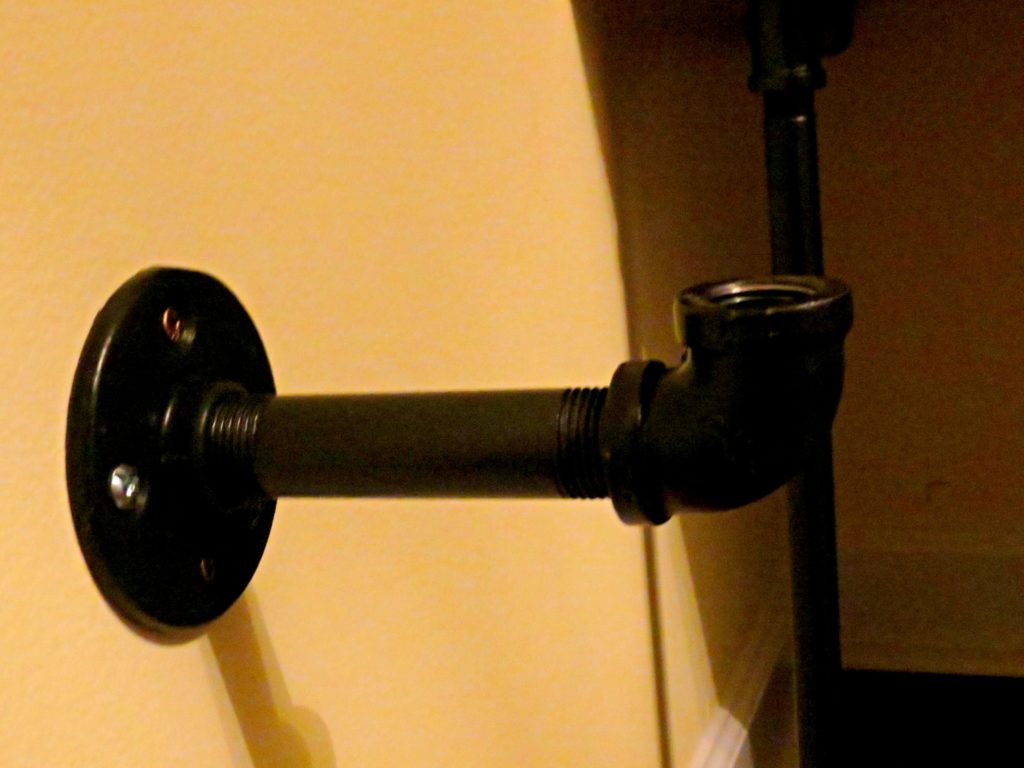 then added an elbow,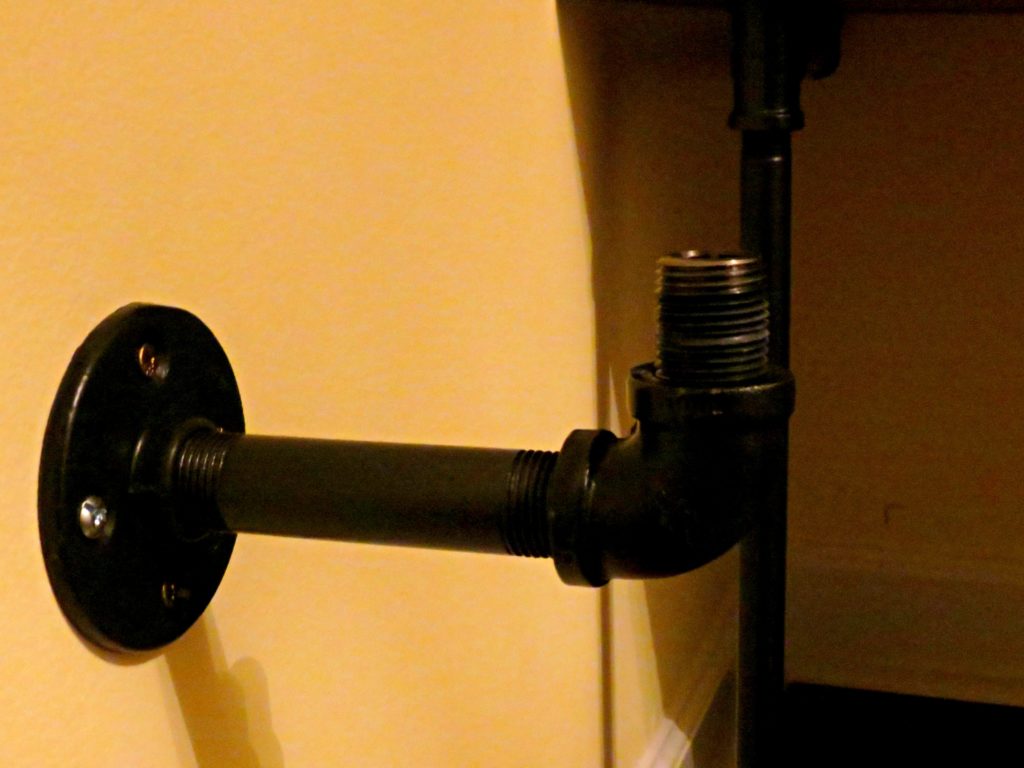 then a closed nipple,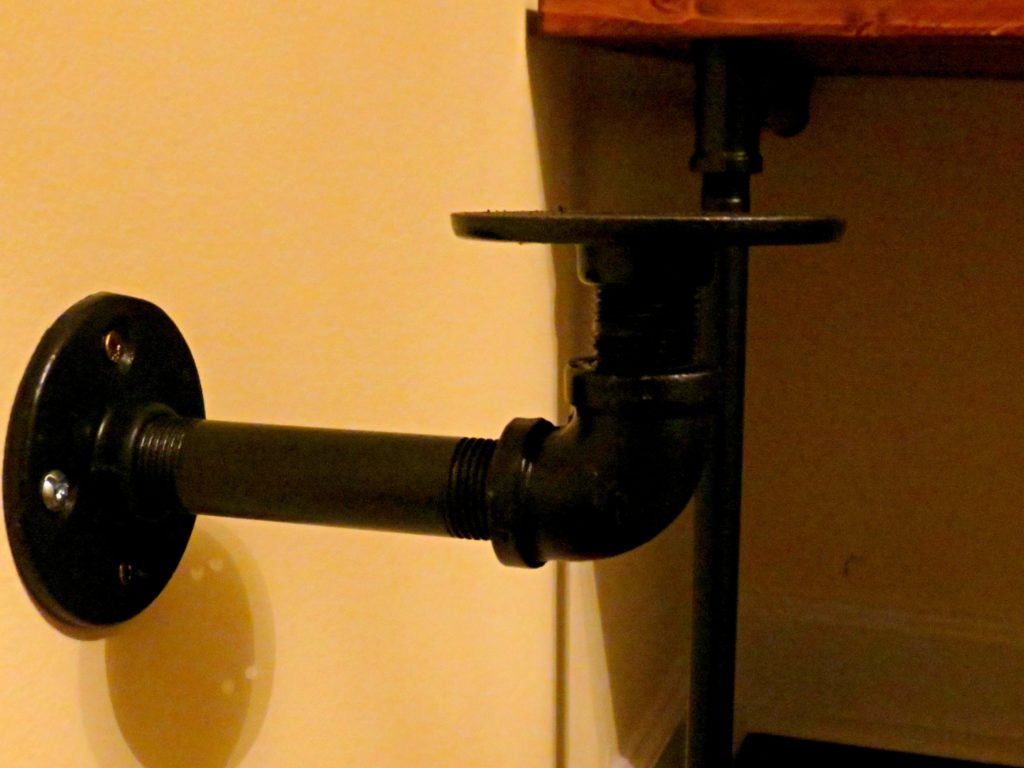 and lastly, another flange that was then screwed into a 1x12x36″ board with 3/4″ wood screws.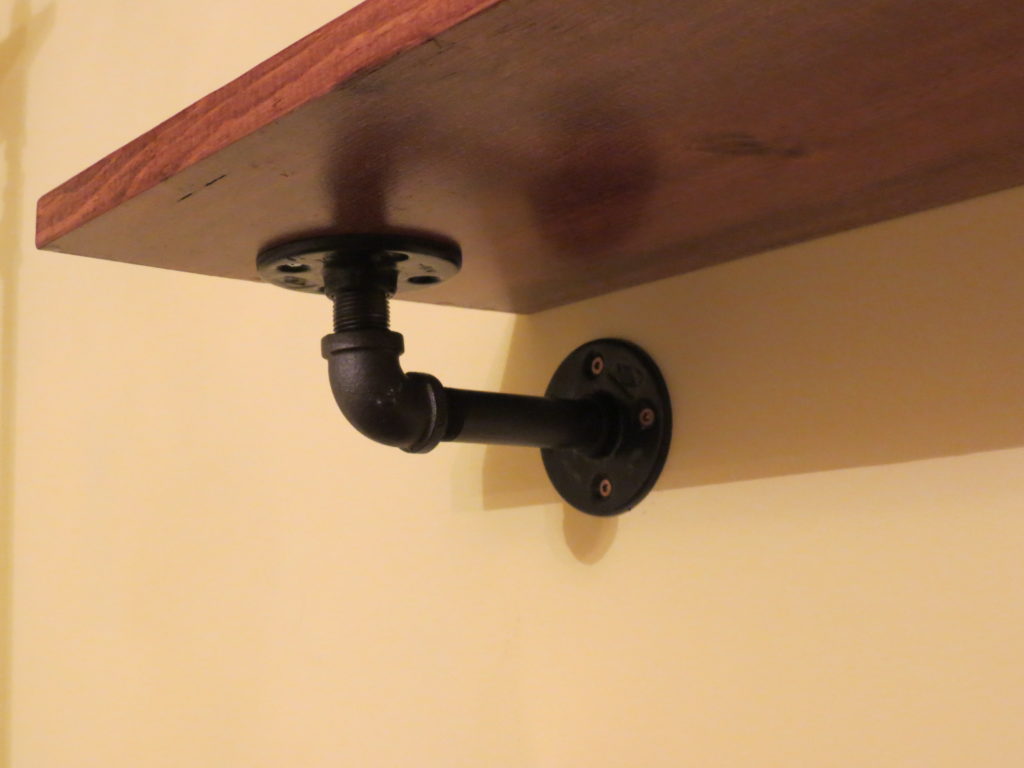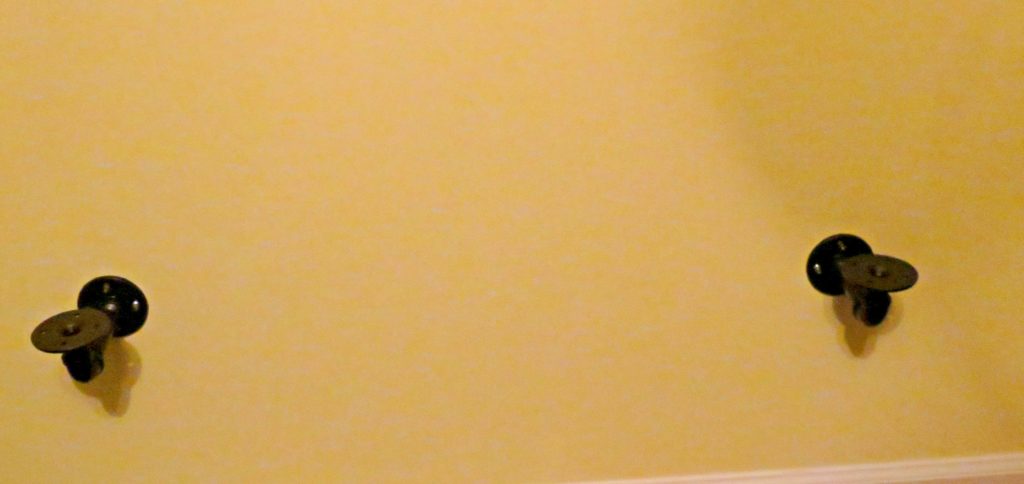 We did one set per 1x12x36″ board that I wood conditioned, stained, and polyurethaned with three coats.
After the first shelf that was 18″ above the floor, each additional shelf was 9″ apart for a total of 6 shelves.
I love how beautiful they look!!!!
Now for the second half of the back wall ~ the storage for the gift wrap and fabric.

Instead of using black iron pipe, we used PVC pipe which was a lot cheaper. We didn't need the heavy duty piping because there was no weight to hold. It is just for wrapping paper rolls.
I spray painted the white piping black.
We then attached metal flanges to the wall ~ four of them.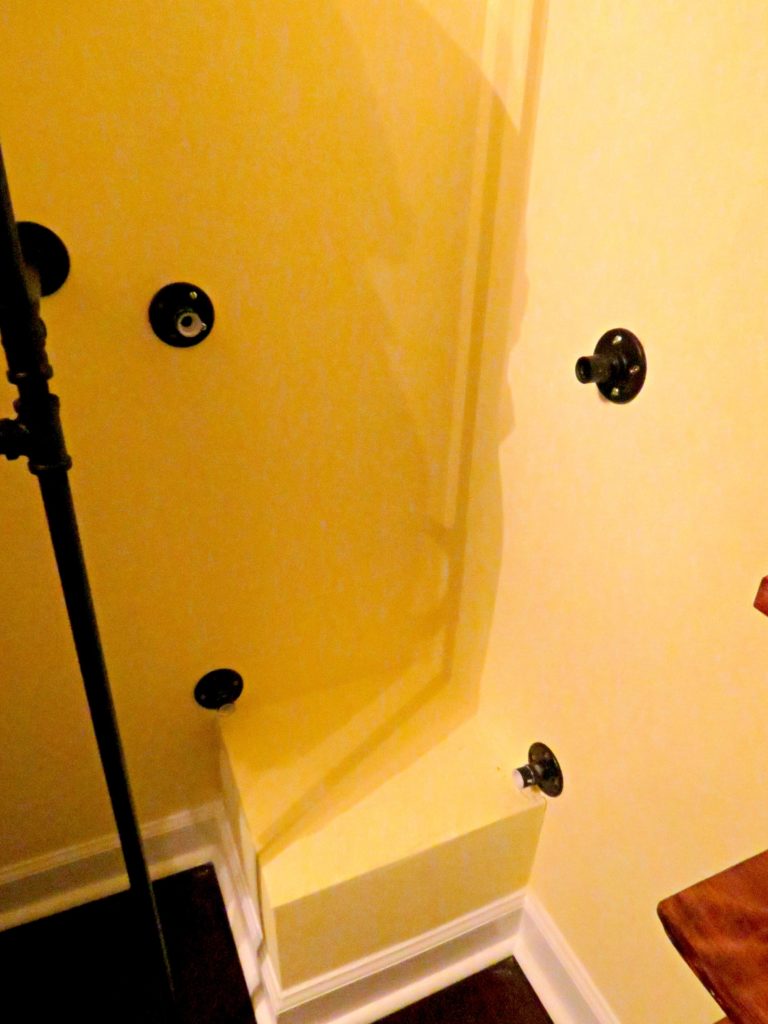 We then built the enclosure using PVC three ways, nipples and two 6′ foot pipes cut into 2 ~ 15 inch pipes and 2 ~ 13 inch pipes for the horizontal bars and 24 inch vertical bar.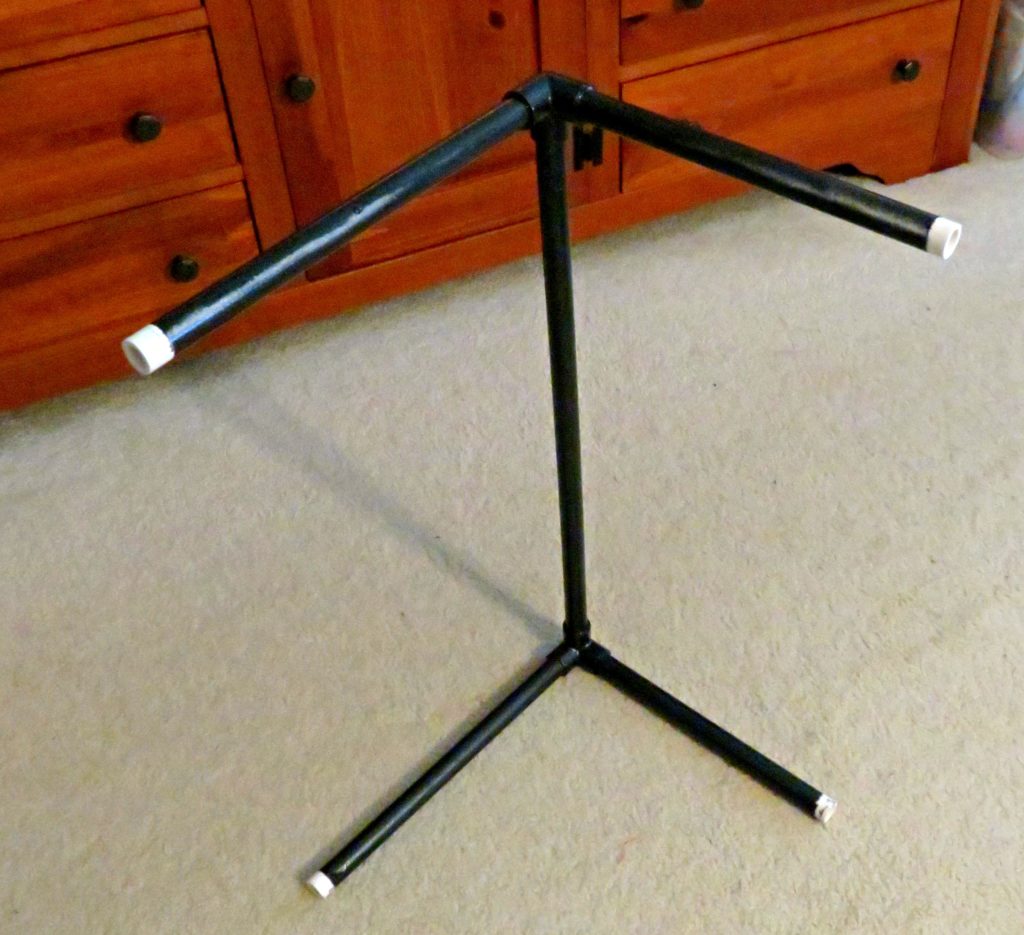 The LOML built this enclosure and then we just inserted it into the flanges and nipples.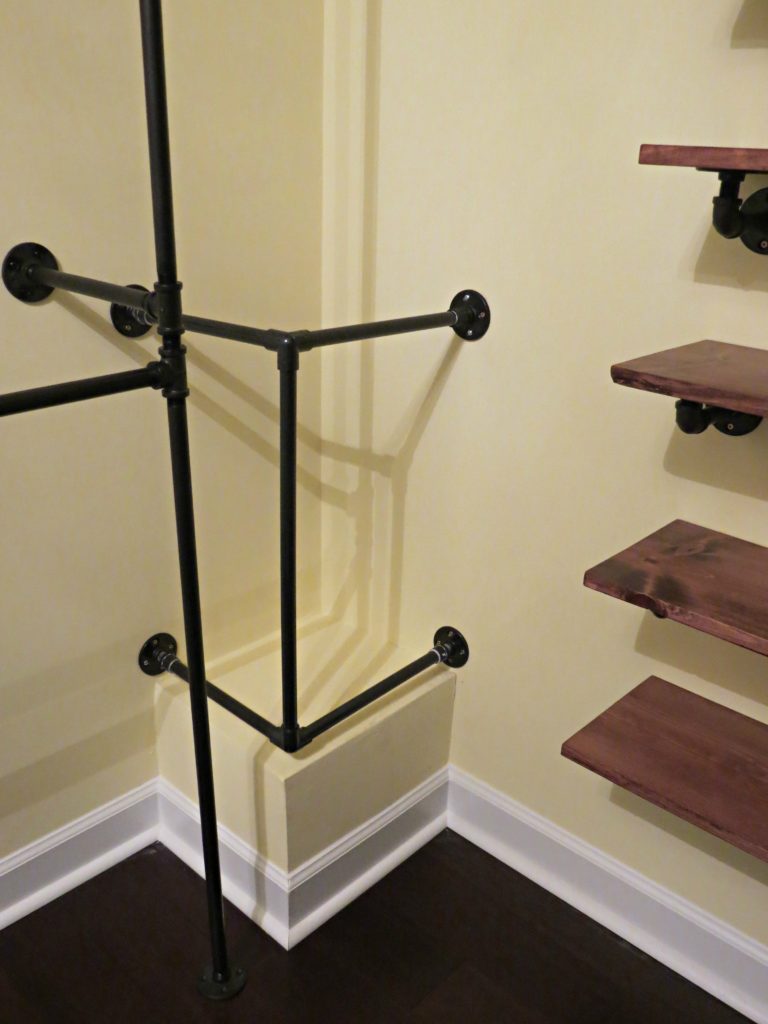 PERFECTION!!!
I'm so excited that the closet is finally complete. The hard work, long weekends, and a bedroom that is wall to wall crap important stuff was all worth it!
Decorating is always my favorite part of any project so after I'm done prettying up the closet, I'll post the final reveal.
I can't wait for y'all to see it!!
Have a great Friday!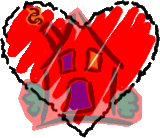 Love y'all,
Linda